Frozen 2: A Cinematic Masterpiece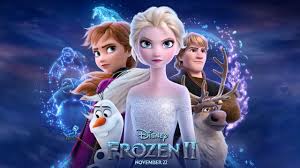 The Disney movie Frozen skyrocketed to fame in the fall of 2013, and just six long years later, Disney graced the population with its next hit, Frozen 2. Released on Nov. 22, Frozen 2 blessed the world with its perfection and iconic storyline. With six years of anticipation and excitement being built up, I had very high expectations for this film, and I was thoroughly impressed with what I watched.
The first Frozen came out when I was 10. At that age, I watched Disney movies because that was my taste in cinema. Because of that, Frozen became one of my favorite films. Not only was it a hit in my heart, but it also quickly became a national phenomenon. With the insane popularity of songs such as "Let It Go" and "Do You Want To Build a Snowman," people around the world knew the story of sisters Elsa and Anna.
After the success of Frozen, I thought that they would waste no time in releasing the sequel. I was very wrong, as I had to wait for six years until they finally released the sequel. This wait, though, was worth it, as Frozen 2 became one of my favorite Disney movies.
Frozen 2 follows the story of sisters Elsa and Anna and their adventures into an enchanted forest. Idina Menzel voices Elsa, and Kristen Bell voices Anna. Elsa, the queen of Arendelle, has magic ice powers, and Anna, the princess, wants to protect Elsa at all costs, after everything that happened in the first Frozen. The movie takes viewers through stories of love and forgiveness, and it's a rollercoaster of emotions.
Frozen 2 is an animated film, and the animation is fantastic. The immense detail put into animating and creating this film is insanely impressive, and it's one of the reasons why this film is so great. The animation creates a better viewing experience for viewers. It's eyecatching and allows for a great movie and story to be portrayed in the best way possible. Without such great animation, I know that this movie would not have been nearly as enjoyable as it was.
Something else that really made the movie was Olaf. Olaf is one of the main characters in the films and is voiced by Josh Gad. He is a snowman that can survive the seasons, and he's pretty much everyone's best friend. In the first movie, Olaf was hilariously naive, and one of the funnier characters. Knowing this, I had high expectations for his role in the second film as well. Yet again, my expectations were exceeded.
Olaf was even funnier in the sequel compared to the first movie. In an effort to avoid any spoilers, my favorite Olaf scene was one where Olaf recaps the entirety of the first Frozen in about 2 minutes, but he does it with such passion. I was sitting in my seat crying from laughter, that's how good it was.
Overall, I highly recommend this movie to people of all ages, even though it's a children's movie. I had such a fun time watching this movie as it took me on a ride of laughter and sadness but in a good way. I would rate Frozen 2 a 10/10 and recommend it to everyone to watch.