Mia Cejovic: Soccer Star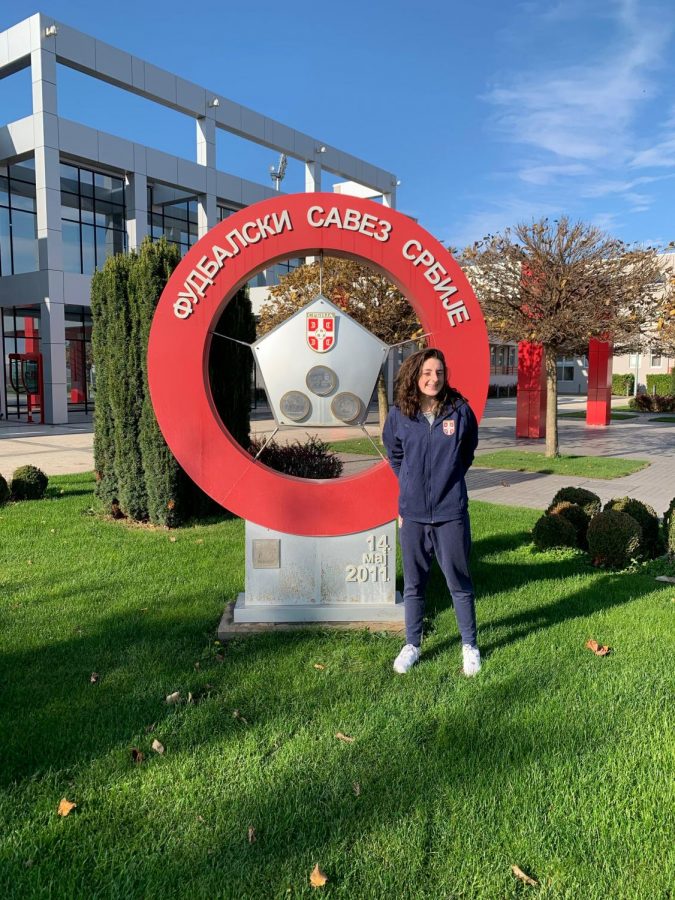 Since she was three years old, freshman Mia Cejovic has lived life with soccer at her side. With both her parents having played soccer in college, her father coaching at Niles North High School and her uncle coaching here at West, soccer is a family sport for the Cejovics. This was taken to the next level when Cejovic was invited to the U15 national Serbian women's soccer team camp.
Coming from a Serbian family heavily dedicated to the sport, Cejovic's invitation to the camp was a really big deal when she received it at the end of October.
"I couldn't believe it. I didn't talk for five minutes straight because I was just thinking about it," Cejovic said. "It's one of the greatest things that's ever happened to me."
Cejovic's uncle introduced her to the camp when she visited Serbia with her family over the summer. They were told it was too late to be recruited, but a U17 selector reached out to her anyway. Cejovic's parents exchanged necessary information to get her involved, includings videos of Cejovic playing soccer at her little nine tournaments and club games. A few exchanges later, Cejovic was recruited.
The camp took place from Nov. 18 to Nov. 21 in Serbia. Cejovic was recruited for U15: the youngest women's national team level. This was the team's first time playing together. Her entire stay was covered by the recruiters.
Cejovic's schedule at her camp in Serbia was the same every day: wake up, eat breakfast, change for practice, attend a team meeting, have morning practice, break, lunch, a mandatory break in which players couldn't leave their rooms and had to simply rest, another team meeting and practice, dinner, and then a final team meeting.
The soccer aspect wasn't as difficult for Cejovic. "We had high-intensity training and we focused a lot on techniques and fundamental things like passing, juggling, making good runs, and opening up space. I have been doing that my entire life," Cejovic said.
The difficult part of the camp, however, was the social aspect. As it was her first time alone in Serbia, and she didn't know anyone upon arriving.
"It was weird at first," Cejovic said. "But once I started meeting people, time went by faster, and it was a lot easier for me to be there by myself."
On the last day of camp, Cejovic and her team played against a U17 team, whose players were two years older. Cejovic's team ended up taking the win, 3-0.
"I've never played at that level. Every girl there was really good, and that was the best team I've ever played for," Cejovic said. "I definitely gained more experience in terms of soccer. It felt really good for me to be playing at that speed, at that level and with that competition."
Along with gaining additional soccer skills, her invitation to the camp allowed Cejovic to leave with new friends and a stronger command of the Serbian language.
"I made really good friends there, especially since we were only speaking Serbian," Cejovic said. "It helped me improve my Serbian. I learned words I could never really remember since I had to use them so many times."
Cejovic came back to school before Thanksgiving break, which allowed her to catch up on her assignments over the 5-day weekend.
"The only thing that's hard is making up the tests," Cejovic said.
Soccer isn't the only sport Cejovic plays. She's also been playing volleyball and basketball since middle school. In her first year at West, Cejovic has played for the junior varsity girls volleyball team and is now playing for the freshman A girls basketball team. In the spring, she will play for the varsity girls' soccer team.
According to volleyball coach, Kristin Eisenberg, Cejovic demonstrates great athleticism and the ability to work with her teammates.
"Her strong work ethic, ability to adapt, competitiveness, and determination make her invaluable to any team she is a part of," Eisenberg said.
Cejovic's dedication towards sports does not undermine her passion for school, however. "School is really important to me," Cejovic said. "I'm in all honors and AP classes."
Although time management while being a tri-season athlete and honors student can be overwhelming, Cejovic believes her experience from middle school has made it easy for her.
"I've been doing this since middle school, playing all three sports and taking tougher classes. I'm used to being able to manage my time," Cejovic said. "I have my planner and write when things are due. If it's due later that week, I'll just have to split it up a little bit so I don't have that much work on a single day."
Cejovic's friend Mila Albazi sees the determination she presents as a student-athlete.
"She is focused on both her studies and athletics. She maintains good grades in high classes along with playing on both the volleyball and basketball team," Albazi said.
Cejovic credits her parents for allowing her to have the opportunities and mentors she has. "My dad came here when he was 14 and didn't speak English, and my mom's parents didn't speak English so she didn't have the same opportunities and mentors that I do," Cejovic said. "Thanks to them, I have these opportunities."
As for her future, Cejovic's keeping her options open. "My mom's a professor, so teaching sounds good. I like music, so maybe a music teacher. Every kid has their dream."