Fiesta En Tuxpan: Truly A Fiesta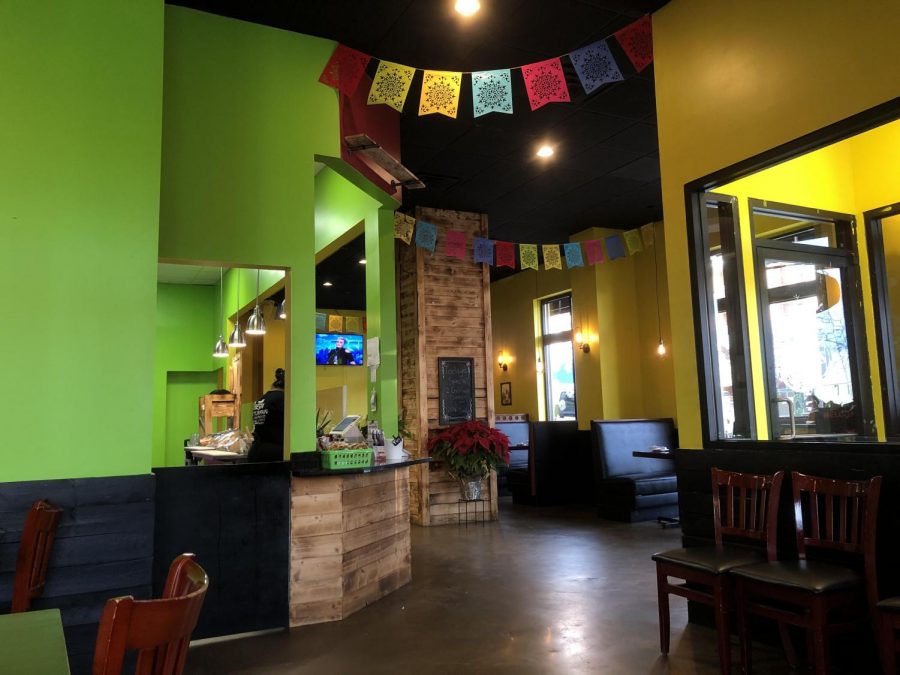 A newly opened restaurant on Oakton Street has brought nothing but business to the already popular street. Opening up this past year, Fiesta En Tuxpan is a cute little place to stop by and grab a quick bite.
I stopped by the new Mexican restaurant last Thurs. after school with a friend. Since we both have double early release, we were able to be seated with no wait since it was just two in the afternoon. Pleased by this, I already had a positive start to this review.
Like I said, it wasn't busy at all with only a couple of customers waiting at the front for their food to be prepped as they were doing take out. Besides that, only one other table besides ours was occupied. Able to seat ourselves, we then waited for our glasses of water. To our surprise, we were given complimentary chips and salsa. Most restaurants have it as an appetizer that you have to pay for, so this just added to the positive aspect of the restaurant.
Along with the chips, we were handed two glasses of water and two different types of salsas. I didn't pay much attention to the second salsa, as it was an orange-like color that just didn't appeal to me at all. The other salsa was tomato-based, but that's all it really tasted like. I absolutely love salsa, so it was kind of disappointing considering I drench all Mexican dishes that I eat in some sort of salsa. I prefer green salsa, but being the only two options, I used the red salsa throughout my meal since the other one didn't draw any interest from me.
Shortly after being served our water, we then proceeded to order. I ordered a torta with al pastor (seasoned pork), and my friend ordered four tacos. Two being with cow tongue, and the other two being tripa, which are small intestines.
My torta was served with everything but tomatoes, so it had lettuce, cheese, beans, avocado, and sour cream, not including the meat. Honestly, it was quite delicious and pleasing. It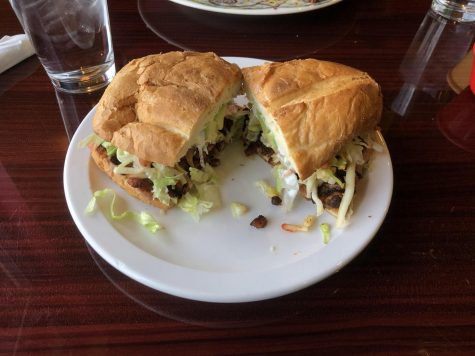 came out hot, so no complaints there, and the bread was toasted but not to the point where it's a solid rock. It was crisp on the outside and still soft on the inside. The seasoning of the pork wasn't overpowering, which is a good thing. I've had al pastor before that just takes over the show, but this had a "just right" type of seasoning on it. Not too much, but also not too little.
As for my friend, he was pleased by the tacos. His were served with finely chopped cilantro and onion on corn tortillas. He wasn't able to eat right away because he didn't want to start eating until he had lime. When our waitress came by to check up on us, he then asked for a side of lime. When she brought out the lime, it was in a little cup. To our surprise, it was filled to the top with slices. Not only did he have enough for his four tacos, but he had some leftover.
The restaurant itself was very festive. Since I'm Mexican, seeing it all decked out in our colors was very cute. The restaurant itself is very clean and cozy. The people working were very nice to us and were patient with any of the questions we had. Friendly workers go a long way in any business, whether the company is small or big.
Overall I would say a 10/10 is an accurate rate for Fiesta En Tuxpan. Good food, good music, good people, what more could you want? I urge anybody that wants a quick bite of Mexican food to stop by Fiesta En Tuxpan because it's surely a fiesta and won't leave you disappointed.