UFC 246: Mystic Mac Makes Spectacular Return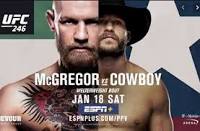 Back in March of 2019, many UFC fans were heartbroken to hear the news that former duel belt champion Conor McGregor announced his retirement from Mixed Martial Arts, but it took less than a year for him to make his return back to the octagon and shocking the world.
Last Saturday, Jan. 18, 2020, McGregor made his much-anticipated return to the UFC fighting in the main event in the welterweight class against record-holding Donald Cerone. Many people thought McGregor didn't stand a chance against Cowboy, but he proved everyone wrong yet again by only needing 40 seconds in the first round to secure a victory by knockout.
With most UFC fans, McGregor has a love-hate relationship where you either love him or despise him, but nonetheless, he shocked everyone and clearly showed he still runs the show
"His performance couldn't have been better. The people of America asked for a convincing victory, and he developed with one of his most devastating KO victories. Personally, I believe this version of McGregor can go up against anyone in the 155 and 170-pound divisions, so it's great to his Mystic Mac back," senior Michael Daratzis said.
There is no doubt in anyone's mind that McGregor isn't one of the greatest athletes and entertainers in the world right now, and fans everywhere hope to see a few more big fights from him before he really calls it quits with the sport.
"I truly believe he is definitely the best at promoting his own fights and the weeks leading up to his fights are just as fun, and exciting to watch as the fight and I hope that he is able to partake in a couple more because it is always entertaining to keep up with," senior Adem Memidzan said.
One thing that is, without a doubt, the biggest difference in watching UFC fights is the hefty price tag that it comes with to watch. Each pay-per-view can vary from different prices but almost all hover in the triple-digit range forcing many people to get together and all pitch in for the night.
"Paying 80 to 120 dollars to watch a UFC fight might be a bit expensive for some, but others might think differently. It always depends on who's fighting and who I'm going to be watching the fight with. If I'm with a bunch of people and I know whose fighting, then I will pay that amount, but if its people I don't know that are fighting, I won't pay," senior Kat Kraljevic said.
Regardless if you think the price is worth it or not in the end, McGregor never fails to provide an exciting night for people getting together and watching him duke it out in the octagon. After his latest victory, there should be no surprise if he wants to get back out there for more, and hopefully, he is able to take the main event of another night sometimes by the end of this year.