Mac Miller's "Circles" Review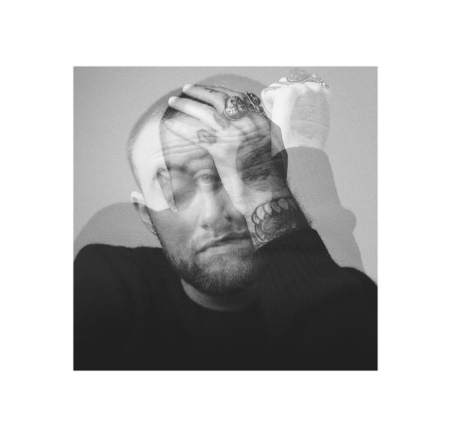 A year and a half after the death of Mac Miller, his posthumous album "Circles" has been completed with the help of his family and executive producer Jon Brion. The continuation of his previous album, "Swimming," Mac speaks more about his mental health and completes a transition that makes it obvious he's comfortable with who he had become.
Despite being a posthumous project, this album seems very complete, which should be attributed to the great work and time Brion took to complete Mac's vision. Despite this, the lyrical content seems very complete and makes listeners question how close Miller really was to finish this project.
The album is opened by its self-titled song, starting with a chilled-out bass guitar before a flute-like pad complements the pattern. When Miller starts singing, it's almost as if he's talking to you from the dead. "Well, this is it what it looks like right before you fall" is an eerie start as if Miller knew what was going to happen to him. He continues singing about "drawing circles," which can be interpreted in many different ways. From the overall outlook of the song, drawing circles seem to be an endless cycle of disappointments in his life.
Punchy upbeat synths start off "Complicated," a song that's pretty self-explanatory. Miller talks about how he wishes he could get through a day without complications and asking why it always is complicated. Miller continues his shift from earlier projects from rapping to singing. Despite asking why so everything is so complicated, he knows that you cannot live a life without them.
"Blue World" is the first song on the album where we get to see Mac Miller's rapping ability. The song starts with a sample from The Four Freshman singing "It's a blue world without you" before vox's complemented by a fat kick and soft clap compliment it. Miller is able to find the perfect pockets in the beat and makes it seem like he's gliding with ease over the beat. Lyrically, Miller is looking back on his life, from ex-girlfriend Ariana Grande and friends he used to know. He's getting through, however, and he's come to the conclusion he doesn't need them.
"I Can See" is the fifth song on the album, and highlights a key time in Mac Miller's life. In this song, he admits he's finally able to objectively understand his situation and problems. The song has hope at the start, with Miller singing about how he's looking for balance in his life. His thoughts keep going until he begins to understand how fragile life is and that "God don't wait for no one." Production-wise, the long drawn out synths over a catchy kick pattern make for one of the best tracks on the project.
"That's On Me" may be the hardest song to listen on the album not because it is a bad song, but because of what Miller is talking about. Miller is trying to guide others through their own mental health problems by explaining his own. The concept is just as good as the execution, and this song is heart-wrenching to his bigger fans. The production on this track is also bare, but the guitar is really all Miller needs in this case.
The next song, "Surf," continues the theme of Miller's mental health and his understanding that he needs to make it better. Miller also eliminates misconceptions about himself, such as one that he is crazy. Production-wise, another minimalistic guitar complements what Miller is expressing.
Closing out the album, "Once A Day," has a special meaning to not only the album but his fans as well. The track was never mixed; however, he had recorded the lyrics on his phone. Brion mixes these vocals with a piano and makes one of the rawest and emotional tracks in Miller's discography. The song was originally played the "Mac Miller: A Celebration of Life" concert that was held in honor of his death in 2018.
Overall, I would give this album a 7.2/10. Front to back the project is very good, there aren't low lows, but there also aren't many high highs. The goal of this project, however, was to be a continuation of "Swimming," and Mac pulled that part off flawlessly. In relation to the rest of his discography, nothing will beat out the criminally underrated "GO:OD AM." This project belongs in the same category as "Swimming" and "The Divine Feminine."