Niles West Orchestra to Put on Fall Concert
By Gabrielle Abesamis
October 13, 2011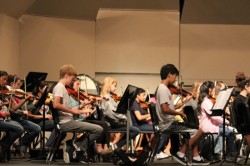 Orchestra Director Steven Katz and his Concert, Philharmonic, and Symphonic Orchestras are scheduled to have their first concert of the school year tonight at 7:30 p.m.  in the Robert L. Johnson Auditorium.
According to Katz, the orchestra has been practicing since school started. There will be eight songs and no set theme for the concert. The audience can expect variety of different of music ranging from light and playful to dark and haunting.
"We're too good, I don't think we can get any better.  [ Katz] is taking practices very seriously. It's almost a week before the concert and we're working extremely hard on 5 page pieces that make my arms hurt," says sophomore and violinist for the Philharmonic Orchestra Valerie Aich.
The soloists for violin parts are senior Claire Son, junior Paula Saelim, sophomore Susie Lee, and junior Michelle Kim. Junior Sheryl Cherian and sophomore Susan Klaisubhan are soloists for the cello.
"We've got a very talented group of kids. Expect a great night with great music," says Katz.