Girls Varsity Soccer 2020 Season Preview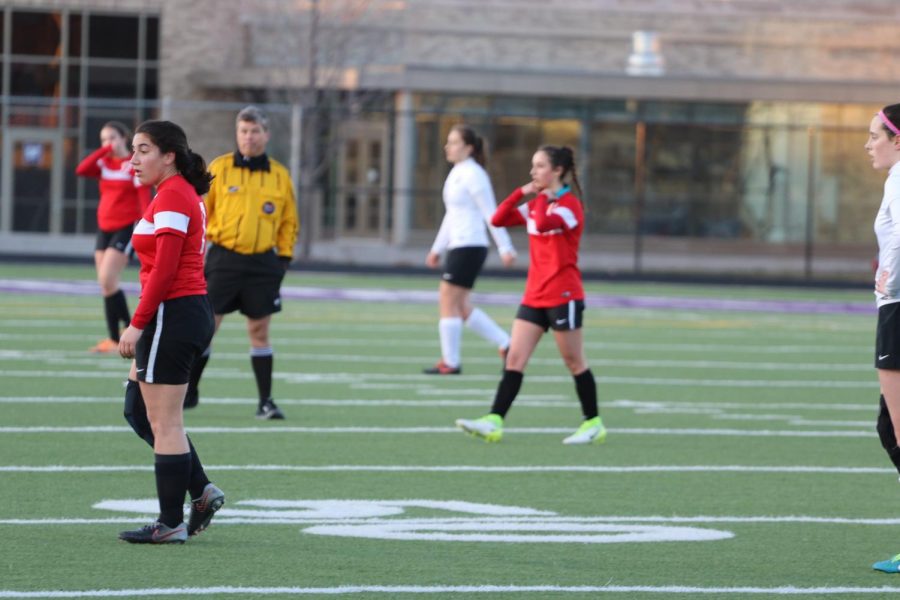 As spring continues to creep around the corner, it also means that girls soccer is coming in full force. The Niles West girls varsity soccer team had a rough season last year with more losses compared to wins, but they're determined to change it up this season and showcase their excellence. In order to secure more goals and wins, the team plans to change up their tactics and work even harder than ever before.
"Our goal is to be competitive in every match. We will be young this year, we've lost lots of seniors and are really looking forward to the younger players to step up. Our goalie situation should also be much better than last year," head coach Milo Cejovic said.
Since the team this year has lost many of its seniors from last season, the athletes are still enthusiastic about what's to come and to play in the red and white jerseys and proudly represent Niles West.
"Going into this season, I feel super excited and looking forward to playing with the girls from last year and the new girls joining the varsity team," senior and varsity athlete Nicole Boudakh said. "The most challenging thing for us this season; however, will be getting used to playing with the new athletes joining the team and finding the chemistry to succeed as a team."
Along with setting up high standards for themselves, the team anticipates a better record and an even more connected family to help build-up the new set-up of the team.
"For this season, we just hope to blend together as one a lot better than before. The more of a family you are with your teammates, the easier it is to be successful throughout the season," junior and varsity athlete Stephanie Tomuta said. "We hope to have a good record and, as always, to beat North."
As the head coach for four years at Niles West, coach Cejovic is only thinking for the future and how the team can be the best that they can be and defeat their biggest competition in the conference.
"The goal is always to get better individually and collectively as the season progresses. We are definitely looking to win more games than last season," Cejovic said. "Our main competition is Niles North, of course. Also, our conference is kind of the "who's who" of girls soccer in Illinois. Every year, a few of our conference teams are competing for the state title."
The varsity team is more determined than ever to raise their rankings and prove to the other teams in their conference who they truly are. With all the open gyms during the pre-season, it shouldn't be a surprise that they end up becoming a whole different team compared to last year.
Don't miss their first game Mon. March 16. at 4:45 pm at home.