Sudden Removal of Wolf Mural Sparks Outcry; Principal Apologizes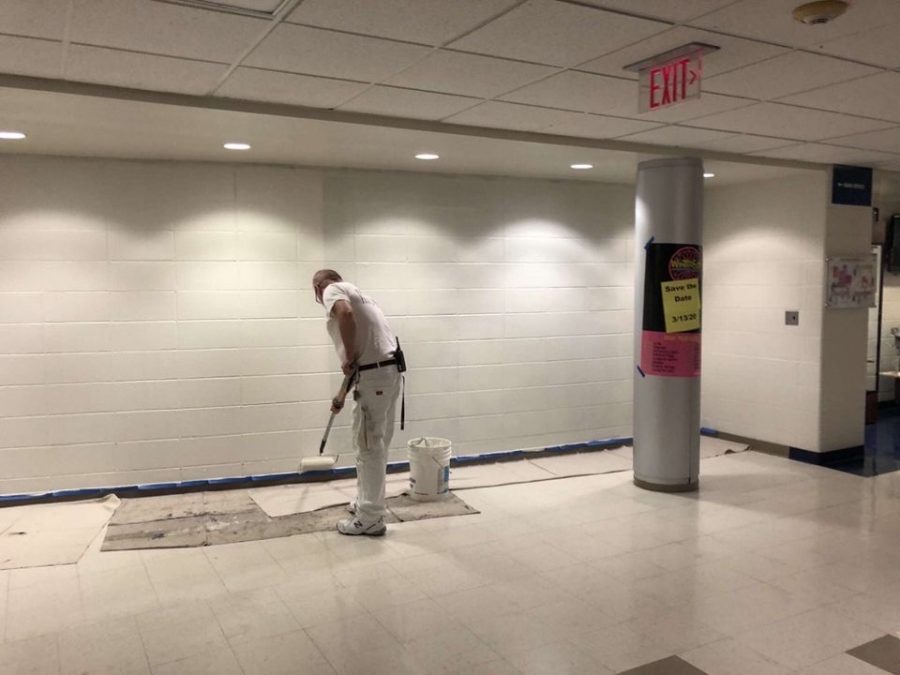 A blank white wall greeted students and staff who arrived through the front entrance of Niles West on Friday, Feb. 21. The mural that previously decorated the entrance, which was a gift from the Class of 2004, depicted a pack of wolves in a snowy forest with silhouettes of Native Americans in the trees. The design paid homage to the current and former mascots of Niles West–the Wolves and the Indians. Dr. Karen Ritter announced the change in a Thursday evening email to students and staff.
"Murals can be powerful. They have the ability to create important conversations and expand thought," Ritter wrote. "However, because murals can get outdated quickly, our plan is to create a revolving canvas where students and staff can engage in the selection of designs submitted by our community of artists that will hold the same purpose."
The idea of replacing the mural came from the Fine Arts Department. Director of Fine and Applied Arts P.A. Ford commented on the department's reasoning.
"They [Fine and Applied Arts department] had to win me over because I felt like oh my god that's kind of a scary thing to paint over a mural. There is a sacred thing that happens with a mural, but as time went on and they talked to me more and we did some research and we looked at the school, it felt like the right thing to do, it felt like time," Ford said. "I really advocated it to Dr. Ritter and Steve Parnther–our team advocated it–and they supported us on our decision."
This mural held a special place with many students, and its sudden removal struck a chord in the student body.
"I remember coming here as a kid and seeing it. My dad used to point out the Indians in the background. Honestly, it is really sad because it was a part of my memories at Niles West," senior Shayna Grais said.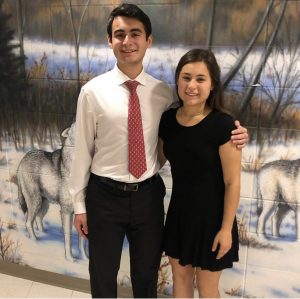 Many students voiced concerns about being left out of a decision that will impact the way their school appears.
"My initial reaction was complete shock. That mural was the first thing that wowed me when I walked into the school as a freshman and I loved it. If the Fine Arts Department wanted to take it down, not only should they have consulted the student body that clearly loved the mural so much, but they should have consulted the class that gifted it," junior Michael Christofidis said.
Ford acknowledged that student input was not sought in the decision to erase the mural, but indicated that students will have input on the designs when the rotating canvas is installed.
"Sometimes you have to trust the adults in the building. [The school] will be voting on the new mural that goes on the wall. With the revolving canvas, the idea is when you feel strongly about something and you want to see something new, or we bring in an artist that you're excited about or even a student artist, that we'll have the ability to make that happen. People will absolutely have input but I did not seek [the students'] input in the decision to change the mural," Ford said.
The decision to use the wall that already contained a mural and not use a blank one also left students confused. "Why paint over a wall that already has a mural and not just paint over a wall that was already blank," Christofidis said.
Many turned to social media to voice their displeasure with the decision. On the Niles West News Instagram page, students and alumni added comments on a photo of maintenance painting over the mural, most of which claimed the action to be "disrespectful" to the culture and history of Niles West, particularly to the Class of 2004. They also expressed displeasure with principal Ritter specifically, which prompted an apology from Ritter Saturday morning.
"I sincerely apologize for making any of you feel that you do not have a voice," Ritter wrote in the email. "There was a plan to incorporate student and staff voice before any changes were made. However, there was a miscommunication on my part that led to removing it without proper vetting among students and staff. I apologize."
Ritter also addressed the outcry on social media, indicating that she appreciated respectful emails that students sent but warned students about negative comments.
"I do caution you about some of the hurtful and negative comments you have posted on social media and encourage you to delete them. I'm sure you are well aware of how this impacts your social footprint," Ritter wrote.