Leonidas: The Calming Cafe
What you might think is your average cafe while driving past it, Leonidas, located on 1907 Central St. in Evanston, is more than that. Most known for its superb chocolate collection straight from Belgium, this cafe never fails to disappoint your taste buds.
I love trying out new cafes, so I brought my mom with me to try this one out. Right as you walk into Leonidas, you notice a relaxing vibe to the cafe. The slow yet upbeat indie music, dim lighting, and quietness represent the chill aesthetic in the cafe. The tranquility of the cafe makes a great workplace instead of going to your average, noisy Starbucks.
The many delicious sounding options on the menu made it hard for me to decide what I wanted to order but, I ended up ordering The Pomme, which is an apple-filled crepe topped with caramel sauce and whipped cream. My mom ended up going simple and ordered just a regular Nutella crepe. Along with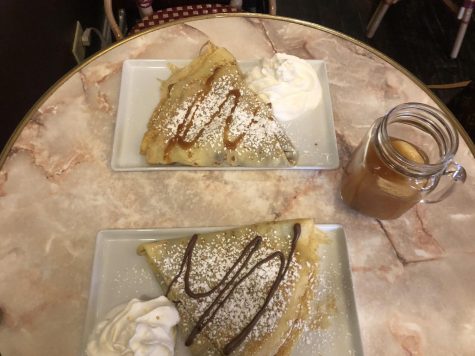 ordering the two crepes, my mom encouraged me to order a warm apple cider, which I did.
The presentations of the crepe were simple, but that didn't affect the taste of them at all. The Pomme crepe tasted exactly like a fresh, warm apple pie. It reminded me of something my grandma would make for my brother and me when we were little. As for the Nutella crepe, it tasted like the average Nutella crepe that you've probably ordered from any other cafe you've been to. The warm apple cider paired well with the Pomme crepe I got, I'm so glad my mom advised me to get it because it was definitely satisfied my taste buds.
The total for our whole brunch came out to be $21.01, which, in my opinion, is a fairly reasonable price for two crepes and a drink. Most items on the menu are all in a similar price range, which I feel is pretty affordable for most teenagers.
Although this isn't your typical Starbucks type cafe and might not exactly be close to your home, it's definitely a great cafe to go to when you're in the mood for treating yourself. With the affordable prices and sweet-tasting food, I'd rate this cafe a 9/10 and would highly recommend you visit with your friends or family. This definitely won't be my last time visiting Leonidas, and I'll be bringing back friends to try this place out!