Umar Chaudhry: Racing Towards His Goals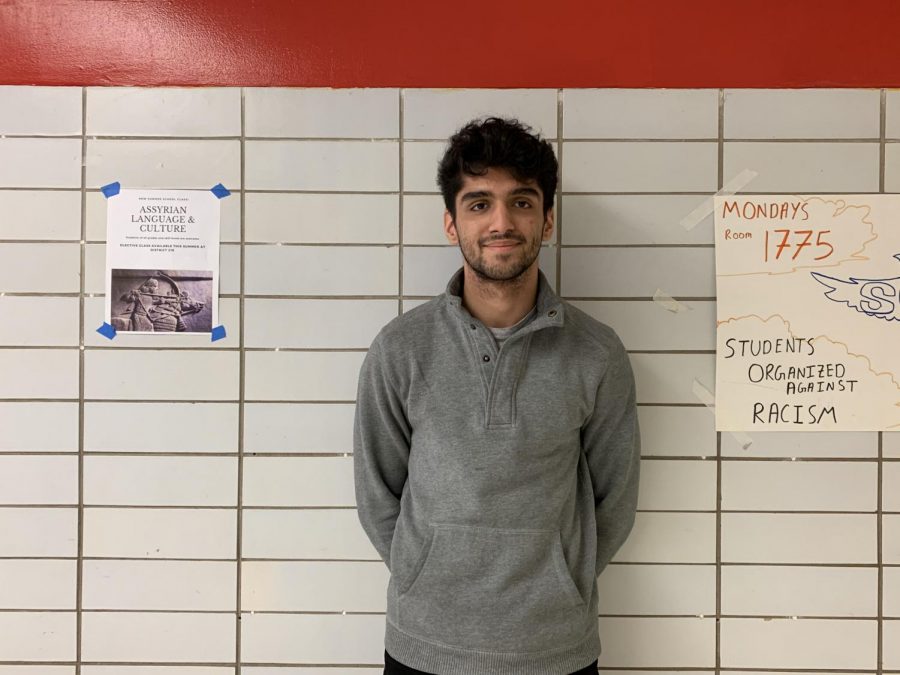 Walking into the field house for either gym class or various sport events, large record boards hang for all students and guests to Niles West to see. After the track meet on Friday, Feb. 22, the board changed. Senior Umar Chaudhry officially broke the record for the 600 meter.
Chaudhry began his running career in his freshman year when he started running for the cross country team and, eventually, the track team as a mid-distance runner. Chaudhry, he began very slow, but he has improved tremendously since then. It is with this improvement that he broke the 126.6-second record for the 600 by 4 seconds. Breaking this record didn't come easily for Chaudhry because, like any runner, race anxiety can be quite the challenge to overcome before even stepping on that starting line.
For Chaudhry, he was already nervous before he even started running. The 600 started at 6:30, which was 30 minutes later than scheduled, which caused Chaudhry to warm up too early. With more time before his event, the anxiety built up, and he became increasingly scared. However, when he stepped onto the start line, he was able to put it all behind him.
"When that gun goes off, you just run. You don't feel anything after that. I took it out really hard, and I just ran my legs out. I was practically limping at the end, and I just crawled through the finish line, and I had beat the record," Chaudhry said.
Despite saying he simply gets on the line and runs his heart out, Chaudhry did have some strategy for running the 600.
"My idea was to run it like a 400 and just push through the rest, which is basically a sprint. I knew I just had to get out there and put my legs in front of me and go," Chaudhry said.
At first, Chaudhry did not believe his teammates when they said he had beat the record. It was only after his coach, Michael Grossman, had told him that Chaudhry believed it, and he was overjoyed. He had finally beat a record, and with still so much more time in the season to continue improving. Of course, Chaudhry credits this achievement to his teammates as well as to his coach for motivating and pushing him every step of the way.
Grossman himself had once held the 600m record at Niles West, so seeing Chaudhry be the second athlete to break it was a special experience to be a part of for him.
"The race finished as well as we hoped. Umar broke Neal Omar's indoor 600m record, and he grained a lot of valuable experience that will help him for the rest of the season. I held this school record before Neal, and it was a privilege to change the name on the record board again," Grossman said.
During the race, his teammates were constantly jumping up and down cheering Chaudhry on, which he said helped push him through. Grossman was also on the side, yelling for him to keep going, yelling out his splits as he ran by. Of course, this encouragement was seen and felt not only during the 600 at this meet but throughout each and every practice.
Chaudhry has met the majority of his friends through either cross country, track, or both, so it is not surprising that they are almost like brothers at this point. For Chaudhry, it is the people that are the reason he loves running.
"We run together, so we're in pain together. We're all practically dying together, which makes us brothers. We can all relate to each other because who else is out here running 7 miles after school," Chaudhry said.
Chaudhry not only shows leadership through his record-breaking times but also as Senior captain of the distance team for track. Senior Kadin Camburn has been running with Chaudhry for four years and views him as a great captain.
"Even though he's one of our top runners and our captain, you wouldn't be able to tell unless you saw him run, because he's extremely down to earth and humble. He treats everyone on the team the same and supports everyone no matter their age or ability," Camburn said.
As for the rest of the season, Chaudhry is working towards breaking the indoor record for the 800 meter as well, because that is his main event and he is just a couple seconds away from breaking it. He also plans on placing all-conference for the 800 and eventually making it to state.
Although Chaudhry does not plan to run track in college, he looks forward to the rest of the indoor season as well as the outdoor season, as this will be his last year running these events.
"This is my breakthrough year, and then I'm leaving it all on the track," Chaudhry said.