West Celebrates Black History Month with the BHM Assembly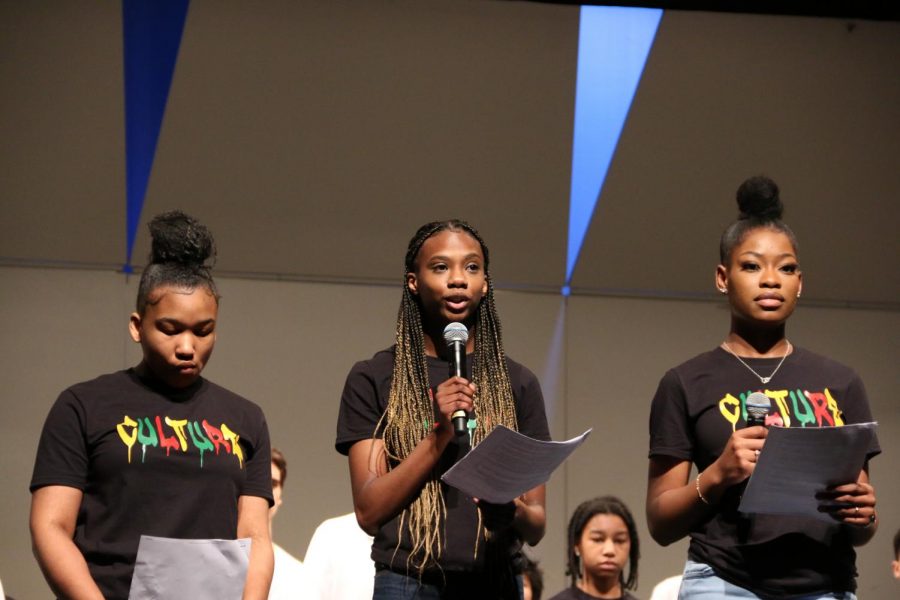 During Black History Month this year, Niles West not only celebrated with its annual Black History Month assembly but also honored famous African American musicians by playing their music during passing periods. This year's assembly, emceed and coordinated by the Black Student Union, offered many perspectives and performances.
The choir kicked off the assembly by performing "Lift Every Voice and Sing" written by James Weldon Johnson and John Rosamond Johnson, which is the Black National Anthem. During the assembly, the Muntu Dance Theatre of Chicago performed a few dances, one specifically called "Lamba," which is a traditional West African dance. Along with the dance group performance, a video was played in which students and staff talked about the importance of this month to their cultures and experiences.
"This month is very important to me because it shines a light on the oppressed and makes sure that everyone learns and understands about the struggle of African Americans or black people in general have faced and are still facing today. I feel very proud to be representing my people and our struggle at Niles West," sophomore Malak Umar said.
One of the poems read from the stage was written by junior Aaron Razack. The poem titled "What's My Culture," explored the experience of being caught between heritage and the demands and expectations of American culture.
"I wanted to let students know that their voices are heard and that their stories are important and that they matter even though they feel like they are the most silenced. I'm still listening to them and I'm here to speak out on my story and experiences because unfortunately not many other black first generation citizens in my position can do that," Razack said. "I'm grateful for all the collaborative help I got on this project and the amount of praises that I got coming out of this because it was really personal and hard for me to open up and speak on my life experiences."
Students feel Black History Month helps many students feel represented and creates an opportunity for sharing and unity.
"My culture being represented means the world to me. It's like being able to share these pieces of my story with those who may not have grown up the same and I think it just brings people together overall," junior Janay Moncrief said.
One of the goals of celebrating Black History Month is to bring awareness of important African American leaders who have shaped the United States.