International Trips Canceled due to Coronavirus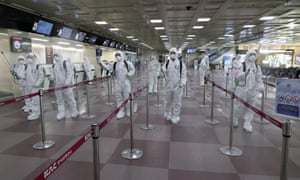 International spring break trips are canceled in an effort to protect students from exposure to COVID-19 while traveling abroad. Principal Dr. Karen Ritter made the announcement in an evening email to the Niles West community  on Friday, March 6.
"As a result of the impact the Coronavirus has had on international travel, we have cancelled our school sponsored trips abroad during the spring break," Ritter stated in the email.
The canceled trip planned to bring students from District 219 to  Barcelona, Spain as part of an ongoing exchange program. World Languages director Todd Bowen also confirmed the cancellation of a trip to China, which was supposed to take place when school gets out for the summer.
There were 12 students total from North and West who planned to travel to Barcelona. but nine additional local host families are also affected, as the district will no longer host exchange students from Spain in April.
Some students involved expressed disappointment when they learned their trip would be canceled.
"When I first heard, I was really upset. I had really bonded with my host student, and I was looking forward to learning a new culture," senior and would-be participant Ruthie Ovalle said.
According to Ritter, several factors contributed to the decision. District 219 officials also consulted with the travel agency and surrounding districts, some of which have made similar cancellations.
"Some factors used in considering our decision were location, mode of transportation, dates of travel. As you probably have seen in the news, there are new developments daily, so we really need to take each of these trips on a case by case basis," Ritter wrote in an emailed statement.
Although students were initially disappointed, they understand and respect the circumstances that led to the decision.
"I was really looking forward to learning about a new culture and staying with a host family. I got to know my exchange student really well over the last few weeks," senior Angela Razo said. "I now fully understand the concern from the administrative team and from fellow families, and I feel much safer staying home."