Illinois State of Education Offers Seal of Biliteracy Test to Seniors Looking to be Deemed Bilingual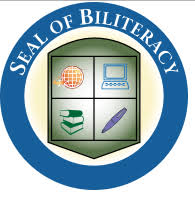 Seniors in advanced language courses had the opportunity to register for the Seal of Biliteracy test through D219. The test itself allows students to be deemed bilingual in their selected language if they meet the requirements. Students received a letter if they were a senior who met the standard for English with an SAT score of 540 or higher or ACCESS (4.8 composite). Students who wished to participate were required to register by signing up and paying the fee of $20-25 dollars depending on the language.
From there, students had to select the time slot they wished to take the exam as the test can take anywhere between 2-3 hours. Test dates were set for March 10, 12, 16, and 17; however, with school currently not in session, some dates have changed. Students registered for the March 10 and 12 date were able to complete their exam, but students who were set to take the exam this week must wait until school is back in session. Some students who had not yet taken the test were concerned that they had lost the opportunity to take it, but Spanish teacher David Malatesta had some reassuring news regarding the exam.
"At the moment, students can take the biliteracy test when we return to school," Malatesta said.
Students who had already taken the exam were glad that they had as they made their decision thinking about their future. Specifically, senior Hannah Yun decided to take the exam for preparation for the AP test in May.
"It was definitely challenging, but it was good practice for the AP exam. After all, that is why I took the test. I feel that the AP exam will most likely be more difficult than the Seal of Biliteracy test was, but the structure will be similar,"  Yun said.
In addition, students who have yet to take the exam are looking forward to it as they too are looking out for their future. Senior Sadie Ruth opted to take the exam to hopefully have an advantage in the workforce.
"I am excited to take the exam because I want to take it in terms of getting a new job, so people can see that I'm bilingual on my resume," Ruth said.
New dates for the March 16 and 17 exam days have not been announced, but those are sure to come soon as more details about school cancelation are made.