What Summer Jobs are Like for Students During COVID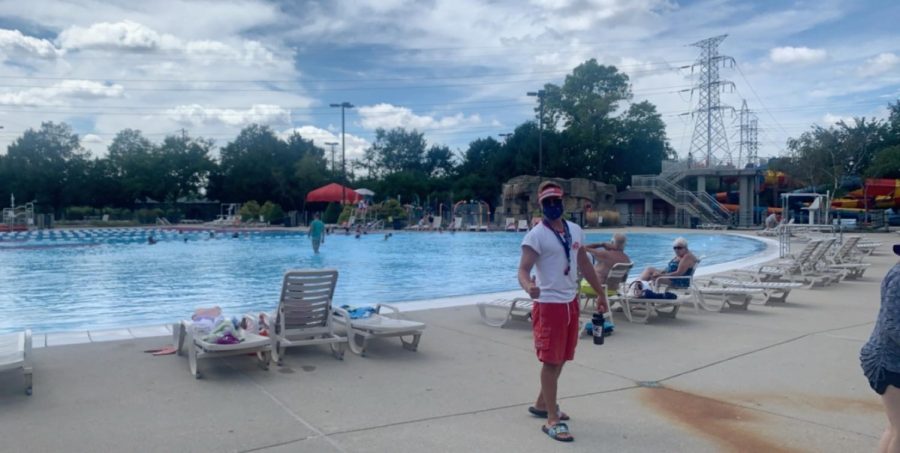 As the shelter-in-place orders were in effect at the start of the COVID pandemic, almost 45 million people began filing for unemployment. Many could not find other jobs, either because of social distancing rules, or spots left by businesses that were labeled essential were quickly filled up. People who suffered financially after filing for unemployment received stimulus checks in April to use the money for any essential needs to manage their lives during the pandemic. The stimulus checks given to every American totaled  out to $2.2 trillion.
As time passed by, Phase 4 of Restore Illinois went into effect, allowing restaurants and malls to open back up with limited capacity and fewer opening hours. As it went into effect, many who filed for unemployment or waited for their jobs to reopen went back to work.
On July 15, after receiving the green light from the Illinois Department of Health, the Skokie Park District opened up the Skokie Water Playground with new rules and regulations, such as reduced capacity and fewer opening hours, along with an impact on the pool's teen lifeguards. Usually, many families who attend the pool are residents of Skokie; however, because of COVID-19, many families who attend the water park are not only residents of Skokie, but also of Chicago as the Skokie Water Playground is only one of few pools in the North Shore area that have remained open this summer.
"Capacity last year was at a maximum of 2,500. Now that number sits at 250," pool coordinator Alen Djencic said.
Which makes it harder for patrons to get a spot in the pool. To order the tickets, they must purchase it online. To add on, the staff have even shut down spots in the pool that have been deemed a high risk for spreading the virus.
"We closed down the red and yellow slide because of how people have to use a tube. So, say if a patron has the virus and sits on the tube. The next person to use that same tube could get infected too," the park district's aquatics supervisor Kelly Davidson said.
The average number of lifeguards working on a regular day at the pool would be 13 people. This summer, that number has changed to 9 people. Originally, some of the lifeguards who returned to the pool had plans for internships this summer, until the shelter-in-place went into effect, canceling many internships.
"On a regular summer day, we would be scheduled to work 6-10 hour shifts. Sometimes 13 hours, but to limit the chance of getting sick, we now only work 3-6 hour shifts. Sometimes 10 on a weekend,"17-year-old lifeguard Adrian Arakis said.
And that's not it. The park district also operates Devonshire Aquatic Pool, located on Greenwood Street, but this summer, they have decided to open only Skokie Water Playground, which adds more to the workers' lack of hours. With that being revealed, what is next summer going to be like for them?