Esports Team Makes Its Way to West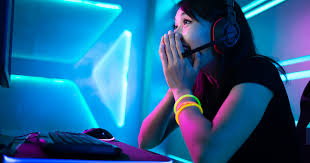 This past week, science teacher Ali Sayed sent out a survey to all Niles West students asking about their interest in playing video games competitively for the school. Sayed is sponsoring the school's very first Esports team.
A little less than a week later, over 200 Niles West students responded expressing interest in playing Esports for school. Due to the large number of students showing interest, Sayed chose to hold tryouts. There will be a JV and Varsity team for each game that is approved by the IHSEA (Illinois High School Esports Association) and the NASEF (North America Scholastic Esports Federation).
One of the questions on the survey asked what games students would be interested in playing. The list included Overwatch, Rocket League, Valorant, Super Smash Brothers Ultimate, League of Legends, Fortnite, and an "Other" option for students to include games they wish to play.
"I have about 50-75 kids signed up for each one of those games. Unfortunately, most of those games have teams that are 4-6 players, so I am not able to accept everyone to the team. I am able to have JV and Varsity teams for each game, which could increase students' chances of getting on the team," head coach Sayed stated. "I will also be looking for about two alternates per game in case of an emergency or if a student leaves the team."
Student Activities Director Katie Odell is thrilled to finally see Esports come to Niles West.
"I am very excited to have our first-ever Esports Team starting at Niles West. I have been working on this initiative for a couple of years now. Once I was informed that the IHSA has been looking to make this group an official IHSA Activity, I knew we needed to get this going in D219," Odell said.  "The hope is that in the near future, Esports will be competing in a State Competition similar to groups like Chess, Debate, and Speech. Right now, there are schools competing in tournaments, and the hope is that by the end of the school year, the Niles West team will be able to compete as well.  Mr. Sayed-Ahmad is going to be a great coach to lead this effort. His knowledge and enthusiasm will allow the group to be successful," Odell states.
Odell also stated that "over 70% of current high school students play some type of gaming.  Therefore, by starting this group, we involve so many more of our students. Also, it is predicted that by 2023, there will be over 100 million dollars in college scholarships for [Esports players]."
According to junior Owais Aslam, "[it's] a great idea to start an Esports team at Niles West because there are talented students that would definitely enjoy playing, some of these students have a lot of skill and have yet to have it showcased competitively."
Coach Sayed plans to begin tryouts this month, along with a couple of requirements.
"I plan on holding tryouts for the approved games during the month of September," Sayed explained.
Students interested in trying out will be asked to fill out an application indicating games they play, game rank, special characters they play, and level experience. According to Sayed, students will also be asked to submit a recorded video of their game play.
"This team will be conducted like a real school sport, where students must maintain good academic standing and come to practice sessions," Sayed said.  "I will review students' applications and select students based on skills, experience, enthusiasm, and diversity."
The West Esports program is definitely something to keep an eye out for.