Top 5 Spanish Soap Operas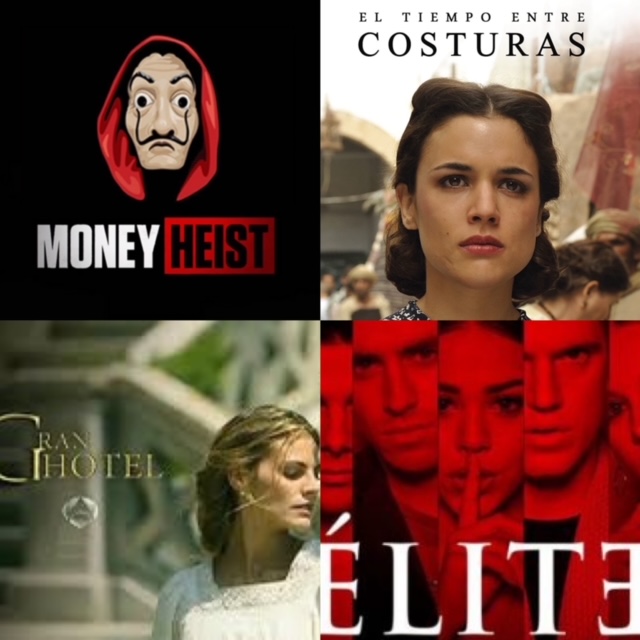 If you're bored of watching repetitive shows on Netflix, Hulu, or HBO that are based in English, I think it's time you try watching shows based in other countries. A show genre that is full of action, drama, and suspense is none other than Spanish soap operas. If you don't know where to start or if you're unsure whether or not to start watching soap operas; furthermore, below is a list of my top 5 Spanish soap operas you have to watch, and you can watch them with subtitles in English to understand the show.
1. La Casa De Papel
Known as "Money Heist" on Netflix, this show is one of the most adventurous shows I've ever watched. With so many tactical and insane scenes, you never know what to expect. Starring Alvaro Morte as the criminal mastermind, "El Profesor," he invests in a plan to pull off the biggest heist in history, to print billions of euros in the Royal Mint of Spain. To carry out the ambitious plan and help it succeed, he recruits eight criminals with certain abilities and who have nothing to lose. The group of thieves take hostages to aid in their negotiations with the authorities, who strategize to come up with a way to capture "El Profesor" and to end the heist once and for all. In later seasons they also try to take down the Bank of Spain while the actors and plot never cease to amaze me, and the same will happen to you.
2.  El Tiempo Entre Costuras
"The Time in Between" takes place in the late 1930s to the 1940s and describes the story of a Spanish dressmaker, Sira Quiroga, played by Adriana Ugarte. The graphics and costume design for the entire show are astonishing and appear as though you're actually in the 1940s. The life of Sira, a dressmaker once consumed by the love of a man in the beginning episodes, leaves the turmoil of Madrid prior to the Civil War at Tangier, where she inadvertently becomes part of an espionage scheme and becomes a key figure for both Spain and Britain before World War II.
3. Gran Hotel
With 3 seasons on Netflix, "Grand Hotel" is featured in the countryside of Spain in the early 20th century. Julio Olmedo, played by Yon Gonzalez, arrives at a luxury hotel to meet his sister, the head chambermaid, Cristina who is played by Paula Prendes. As he arrives at the five-star hotel, he discovers that she has disappeared. Julio makes it his mission to find her and infiltrates the hotel under the disguise of a waiter and does anything in his power to find clues and get to the bottom of her disappearance.
4. Alta Mar
With 3 seasons and counting, "High Seas" is a fun and endearing soap opera. Coming from a wealthy family in the 1940s, sisters Carolina, played by Alejandra Onieva, and Veronica, played by Begona Vargas, prepare for a luxurious cruise from Spain to Rio de Janeiro and Carolina's wedding. Mysterious deaths on the ship spark fear and worry for all members of the ship as secrets are uncovered surrounding the two sisters and their families.
5. Elite
Featuring actors from "La Casa De Papel", "Elite" is another wondrous soap opera with 3 seasons and counting. When three working-class teenagers enroll in an exclusive, and expensive private school in Spain, the tension between them and the wealthy students leads to murder. Even though I'm not finished with this soap opera yet, it doesn't disappoint while it leaves you speechless after every episode.