Top 5 Places to Buy a Personalized Face Mask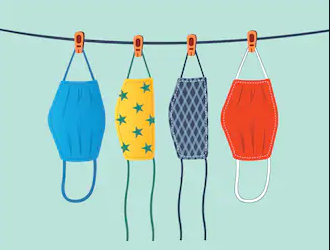 Covid-19 is nothing new. We are well into quarantine, and the daily lives of many have been impacted by the pandemic. One of those changes is the usage of masks. Masks are required almost everywhere at this point, and not only are they keeping you safe, but they can also be the perfect accessory to your outfit. I'm here to give you my top 5 favorite places to buy a cute mask.
1. Kitsch
Kitsch face masks are cute, fun, and safe. Kitsch sells packs of 3 cloth face masks for $12. There are multiple different patterns available that are cute and trendy and are the perfect accessory to any outfit. The masks are made with 3 layers of cotton and are 100% cotton. Overall, my only complaint about these masks is that they might be a little too thick, which depending on your preference, could be a good or bad thing. I would highly recommend Kitsch face masks.
2. Dolan
Dolan is a small brand that sells multiple different styles of face masks. They have a variety of different strap styles, and colors, which allows for many different choices to complete multiple different outfits. Another reason Dolan is a great choice is that whenever you purchase a mask, Dolan matches your purchase and donates 1 mask to those in need. This is a great way to help others in times of stress, and to overall make a difference, in virtually the easiest way possible.
3. Pacsun
Pacsun is a large company that has been supplying teenagers with their wardrobe for many years now. Forgetting their cute clothes, Pacsun also manufactures cute and chic masks, that make you look cute and responsible. Pacsun sells multiple different patterns and colors of masks, for about $12, but prices may also vary. Pacsun masks are much lighter, yet they are still keeping wearers safe, and also making your outfit even better because what's more fashionable than responsibility?
4. Etsy
Etsy is a website where sellers are able to have their own "shop" and sell items they have created. Many small business owners use Etsy as a medium for their businesses. Mask sellers on Etsy make homemade masks and then post them on Etsy, where buyers can scroll through and choose their favorite mask, and purchase. Many sellers on Etsy are also available to customize a mask to your liking, so you are able to get a mask that is just for you. Etsy is a great way to support small businesses, especially during a pandemic when sales were heavily impacted.
5. Target
Target. A store we know and love. Target has a large selection of masks available for purchase at their many locations in the Chicagoland area. They sell solid color masks, with a huge color variety. Solid color masks are great for the days when a patterned mask just does not fit your outfit, and Target is here to provide you with any color you may want, for cheap. Target also has a huge selection of children's size face masks. Wearing a mask is very important, no matter your age, and these masks are the perfect size for a toddler, or any child that may not fit into normal adult-sized masks.