The Relation Between Racial Injustice and America's Favorite Sports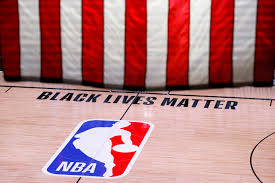 As many Americans know, sports like basketball and football are one of the most brought up topics in America. They can be brought up just by watching the game, discussing it with your friends, or even watching sports commentators on TV discuss it during review reports. However, a new topic has been brought up in America's sports and even around the world like soccer. That topic is racial injustice.
America is known as land of the free and home of the brave, but many are questioning that. With recent incidents going on such as the murder of George Floyd, an African-American who was killed by a Minneapolis police officer from his knee pressing on Floyd's neck, resulting death from suffocation, or Breonna Taylor, an African-American EMT who was asleep when she was gunned down by 3 Louisville Metro Police officers conducting a no-knock search warrant for suspecting Taylor running a drug operation in her home. On September 23, the grand jury indicted one out of the three officers who were involved the night of her death. Many people who are unhappy with this outcome are already taking their protests to the streets, voicing their wishes to their government.
Sports like basketball and football are now back, but with changes not only due to COVID-19, but also to racial injustice. With protests occurring all over the world, well known teams from sports are expressing their support for the Black Lives Matter Movement and many more movements regarding the oppression of minorities. NBA games live on TV show teams like the Milwaukee Bucks or the Los Angeles Lakers wearing an all-black shirt with words saying, "Black Lives Matter." Even when the national anthem is sung before the game, numerous players are seen kneeling, just like the infamous NFL player Colin Kaepernick who was shunned by many people for kneeling on September 1st, 2016, which was 4 years before the protests in June began.
By the end of August, the Bucks boycotted game five of the play-off series against the Orlando Magic in protest to the racial injustice after an African-American Kenosha resident, Jacob Blake, was shot multiple times in front of his children by a police officer. On top of that, after the Bucks boycott, the NBA postponed not only the regularly scheduled games on Wednesday, the same day as the Bucks, but also the three games on Thursday. These decisions carried over to other sports, as the MLB, WNBA, MLS, and NWSL postponed their games as well.