Top 5 Documentaries to Watch on Netflix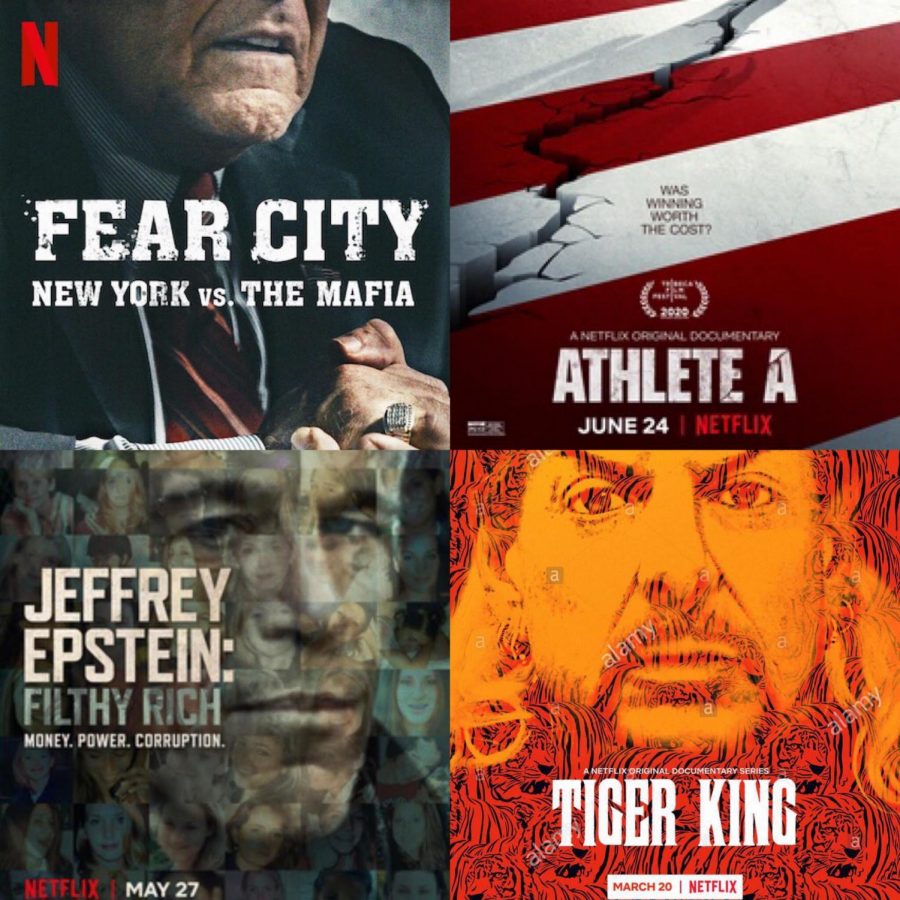 You might just think documentaries are boring, educational films, but they provide a plethora of eye opening content that attracts all types of viewers. Thanks to Netflix, they provide us with Netflix original documentaries and docu-series that expose us to topics that compel us to broaden our horizons. I'm here to give you my top 5 favorite documentaries on Netflix.
1. Athlete A
Explaining the scandal involving the U.S.A. women's gymnastics team and Dr. Larry Nassar, this documentary film details his and many other doctors' sexual abuse allegations against young gymnasts. If sexual abuse is a sensitive topic for you, I wouldn't recommend watching but if you can handle that, then you should definitely give this a view. This documentary puts into perspective how girls are taken advantage of right in front of your eyes. It was truly devastating to hear the gymnasts recount their times with Nassar and other USA gymnastics coaches and how quickly their allegations were ignored/covered up.
2. Jeffrey Epstein: Filthy Rich
This four-episode mini docu-series talks about the notorious Jeffrey Epstein and how he used his wealth and power to cover up one of the most disgusting sexual abuse rings in Hollywood. This documentary is really eye-opening and allows for a greater understanding of the bigger issues and problems in Hollywood that are covered up and hidden to the public. This documentary had survivors recount their time spent with Epstein, their time spent on his infamous island in the U.S. Virgin Islands, and other famous people they interacted with while "working" for Epstein. Not only do they talk about Epstein, but they also talk about his accomplice Ghislaine Maxwell who in theory, had the most important role in Epstein's scheme.
3. Fear City: New York v. The Mafia
Mafia, Italians, and New York, this mini docu-series with only three episodes, goes in-depth and talks about how the five major Mafia families in New York during the 1970s and 80s operated. I thoroughly enjoyed this documentary and how it told the side of the police and mafia members, one being an ex-mafia member who was the caporegime (captain) of the Colombo crime family, Michael Franzese. Franzese explains how the Mafia worked and how they were able to avoid law enforcement numerous times. I found it most interesting how the police actually ended up catching them and taking all the five families down in a sequence. If you're anything like me and enjoy crime tv shows or anything mafia-related, this documentary is perfect for you.
4. World's Most Wanted
Ever wondered how the world's top criminals can avoid being apprehended? This five-episode docu-series will answer that question. Each episode is dedicated to one of the top five criminals in the world, it describes the criminals' history, crimes they committed, and how they've avoided being caught even due to the worldwide investigation of them. Although they did end up catching one of the criminals, Felicien Kabuga, the financier of the Rwandan genocide, it's fascinating to see how the FBI is incapable of bringing these criminals to justice.
5. Tiger King: Murder, Mayhem, and Madness
One of the most-watched documentaries on Netflix due to quarantine, Tiger King will never fail to put a smile on your face. This show was outrageous and exposed a subculture of exotic animal owners. I never knew much about private exotic animal sanctuaries and it was surprising and sad to see how popular the ownership of exotic animals is across the United States. Aside from the exotic animal ownership, this show highlighted southern culture and it really made me realize the difference in living from the south and the city suburbs. You'll never fail to laugh and be amazed while watching this docu-series.