West Hosts Communal Response to Breonna Taylor Case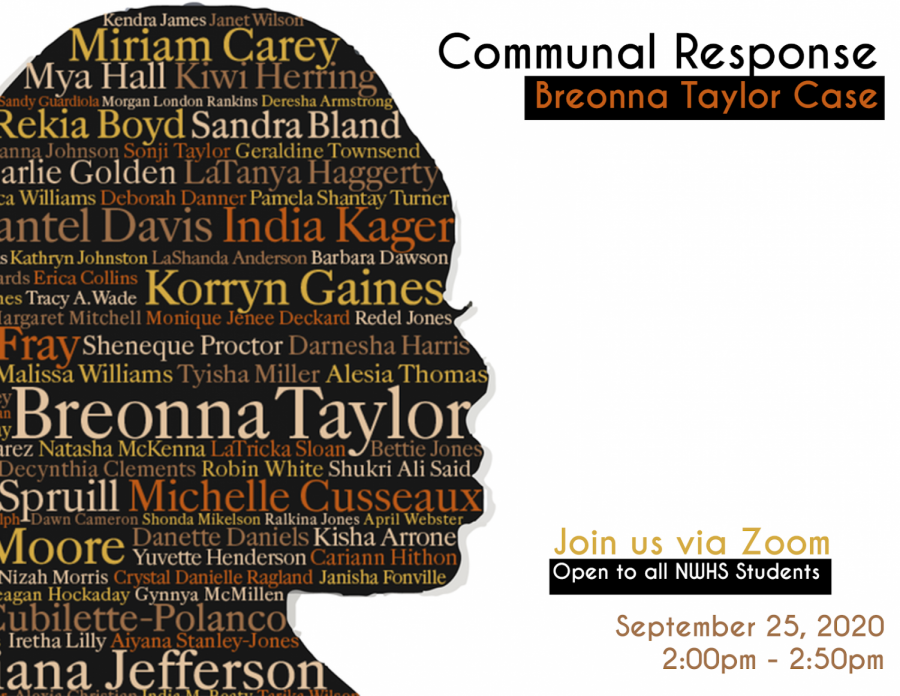 On March 13th, 2020, Breonna Taylor, a 26-year-old EMT, was shot and killed in her home by police officers Jonathan Mattingly, Brett Hankison, and Detective Myles Cosgrove of the Louisville Police Department. Reports indicate that Taylor and her boyfriend Kenneth Walker were sleeping at the time when the officers were looking for two men in a suspected drug case. The incident was brought to the public's attention after the death of George Floyd, an African-American man who died by mechanical asphyxia at the hands of police officer Derek Chauvin by kneeling on Floyd's neck for 8 minutes and 46 seconds. Breonna Taylor's death has sparked numerous conversations on the matter of racism across the country and has led to questions regarding the role of policing and police brutality in the United States today.
The incident was brought to court, and the Kentucky Grand Jury heard the case. On Sept. 23rd, 2020, Kentucky Attorney General, Daniel Cameron, announced the decision made by the grand jury: one of the three police officers, Brett Hankison, would be terminated from his position. The decision was made that he would be indicted for wanton endangerment due to shots fired into the neighboring apartments, and a bond was set for $15,000. None of the police officers involved in the case, however, were charged for causing Taylor's death.
Daniel Cameron, at a press briefing the day the verdict was announced, spoke on the reasoning behind the jury's decision and the shots fired by Officers Mattingly and Cosgrove.
"Evidence shows that officers both knocked and announced their presence at the apartment," Cameron said. "While there are six possible homicide charges under Kentucky law, these charges are not applicable to the fact before us, because our investigation showed, and the grand jury agreed, that Mattingly and Cosgrove were justified in their return of deadly fire."
Shortly after the decision made by the grand jury, protests across the country erupted in response to the verdict. Cries for charges to be pressed for Taylor's death became in major cities outside of Louisville. On social media, the #SayHerName campaign became widespread, in order to serve awareness to Taylor and other Black women who have similar stories but did not receive much national attention to their cases.
On the day of the announcement of the jury's decision, D219 Principals Dr. Karen Ritter and Dr. James Edwards sent out a districtwide email addressing the verdict.
"We are deeply troubled by the decision rendered today in connection with the death of Breonna Taylor," said Ritter and Edwards. "It is imperative that we check in on each other — especially our students. Today's events are yet another reminder that our students are living in an imperfect world, and as educators, it is our obligation to create safe and equitable spaces for all."
Student involvement in the issue became possible a few days later. On September 25th, 2020, Niles West hosted a virtual communal response to Taylor's case. According to Carl Alexander, Executive Administrative Assistant of Niles West and head of the event, "Students will be in small groups to have more intimate discussions about how they feel, what they think, believe and ultimately what they want to do in response to these events." Alexander said in an email regarding the meeting.
Within the meeting, students were placed into breakout groups of 4-5 with one adult in each room. Over the 50 minute period, students were asked to reflect and discuss their individual perspectives of what happened. In order to do so, three questions were asked during the meeting:
1. What were your first reactions to the results of the Breonna Taylor case? Shocked? What other feelings came up?
2. What may have been some underlying issues? What might have contributed to this verdict?
3. How are we different as a society as a result of these events?
The students covered a variety of topics such as no-knock warrants, racism in policing, Breonna Taylor being a woman and the role it played, overall attentiveness and awareness of what is going on in our own community and those around us, and steps that can be taken moving forward.
In addition to the communal response, Student Services are available to support students who have been impacted by the decision. If you would like to speak to student services, you can contact Assistant Principal of Student Services Dr. Antwan Babakhani at [email protected] or please reach out to a counselor, social worker, or school psychologist for support.