Machine Gun Kelly Returns with "Tickets to My Downfall"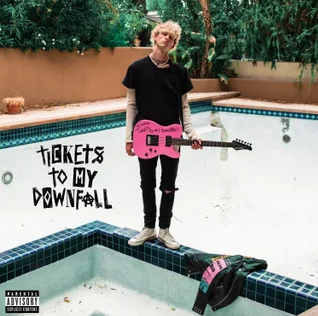 Machine Gun Kelly, also known as MGK, released his fifth studio album titles "Tickets to My Downfall" Sept. 25. This album is MGK's first release since departing from his normal rap style and transitioning to the alternative/pop-punk scene.
Before the album was released, MGK released a single titled "my ex's best friend" with artist Blackbear. This song was one of MGK's first pop-punk songs that I felt really blew up. This song was one of my personal favorites, and my first time listening to it gave me déjà vu to my first time hearing "Mr. Brightside" by The Killers when I was in elementary school. MGK really nails the pop-punk vibe, and I can't see him doing any style of music as well as he does the alternative genre. MGK also released a music video along with this song that features him on top of a moving car playing the guitar, which was a very nicely done stunt.
Most of the album falls under the same sort of sound as "my ex's best friend," with heavy guitar and drums under MGK's voice, but there's one song in particular that really stood out. MGK wrote "play this when i'm gone" for his daughter, in the event that he passes away. This song is easily the most heartwarming and sad song on the entire album, but also one of my favorites. In this song, MGK exhibits such raw emotion that made the song feel so personal, yet showed how open MGK was about his love for his daughter.
The album featured two interludes, one titled "frank and barracuda (interlude)," and the other titled "banyan tree (interlude)." The first interlude is definitely my favorite. On almost every album, I skip the interlude, no matter what is it, because they normally are a 48 second waste of time, and when listening to this album, I really wanted to skip "frank and barracuda (interlude)," but I didn't, and I'm glad I didn't. The interlude is just a phone conversation with MGK, and SNL comedian Pete Davidson, as they discuss their alien names (frank and barracuda), and moving to Mars. Fans know how close the two men are, and their friendship was such a great inclusion to the album.
Another favorite song of mine is "all i know," featuring Trippie Redd. The reoccurring line that really stood out to me is "All I know is I don't know nothing," which is very relatable. This song follows the same heavy drum and guitar instrumental, with MGK, and now Trippie Redd's, voices overtop of it. This is also one of the sadder songs on the album, and the lyrics focus on the idea of being alone constantly, but it's still very upbeat, which allows for a very interesting and nicely executed contrast.
MGK also has great features from artists like iann dior, Halsey, Travis Barker, and more. Overall, this album served as a great transition from MGK's rap career into his new alternative career. He absolutely nailed the pop-punk sound to create a great album. I'd rate this album a 9/10, and would highly recommend it to anyone looking for some new music.