The A Cappella Athlete: Aleena Haider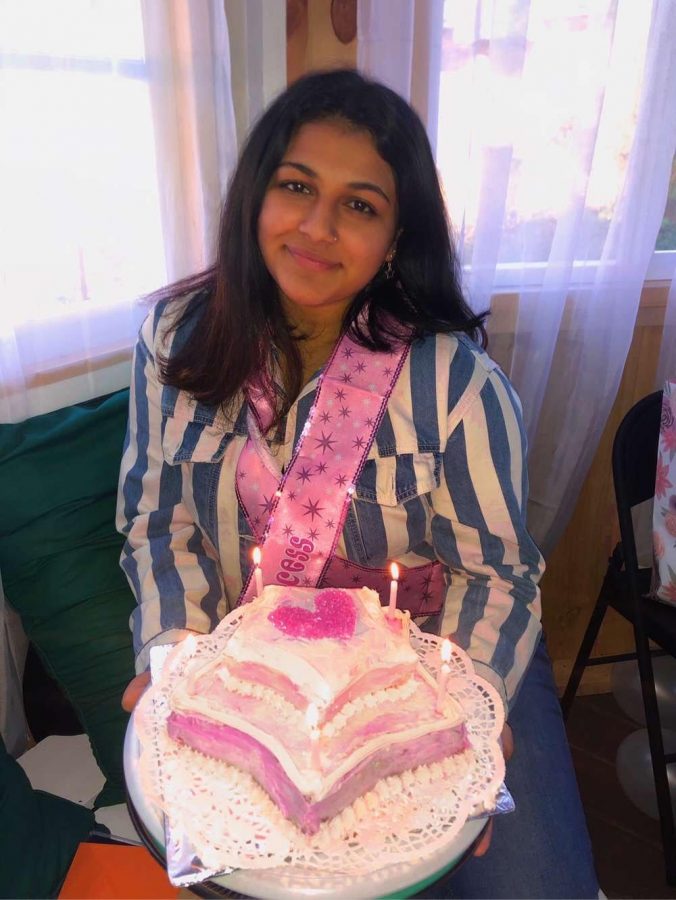 Between balancing remote learning and all of her after school activities, sophomore Aleena Haider can do it all. From being in High Fidelity, the all-girls a cappella group at West, to being on the cheer team, Haider has her plate full with things that bring her joy.
Haider started out cheering in the 8th grade and eventually ended up trying out in high school because she enjoyed it so much. Not only did she find a passion for cheerleading in middle school, she also realized that she wanted to be in the a cappella group, High Fidelity, in middle school when they came and performed at her school during an assembly.
"I had planned to be the manager [of the cheer team], but my coach at the time talked me into actually being on the team and cheering. Trying out for the team at West was definitely a change but it was something I wanted to work hard towards and it led to me making such close friendships and bonds with the coaches and team and is such an amazing and unforgettable memories and experiences," Haider said. "My love for a cappella came from an experience I had where the West a cappella groups came to my middle school and performed for us. It was sort of like a 'love at first listen,' the second I heard the kind of music these groups could make, I knew that I wanted to be apart of it."
Not only has cheer and being in Hifi (High Fidelity) brought her joy, it has brought her great, long-lasting friendships.
"Hifi has honestly helped me so much with growing bonds with the ladies in it, especially with Aleena. Ever since I met her I've never really been that close to her but once she made it into Hifi, it felt like she was one of my best friends," sophomore Therese Malijan said.
Haider enjoyed how both Hifi and cheer gave a warm reception to all members making her feel comfortable and accepted.
"My favorite thing about both of them is they are both so welcoming and inviting. When I first joined both, I was super nervous because I wasn't familiar with a lot of the returning members, but I instantly felt like I was friends with many of them. They were always willing to help, whether it was cheer I wasn't familiar with or a harmony I had trouble singing," Haider said. "Being able to step foot into a new community and not feel like an outsider is something I am still so grateful for and a quality they both continue to practice."
Although we are going through an unprecedented time with COVID-19, Haider and her cheer teammates have made sure to make the most out of it.
"Doing cheer during the pandemic has definitely been a challenge and a change for everyone, but we have been getting through it while keeping our distance and wearing our mask! Aleena and I have been friends since elementary school, but both being interested in cheer made us even closer!" sophomore Lindsey Ongyaco said. "I love being able to connect with my teammates and create a strong bond with them because the sport is all about teamwork. I got to meet so many new people that I never realized I had so much in common with."
Aside from cheering and being a part of Hifi, Haider has picked up a few other hobbies during quarantine that she has enjoyed that have kept her busy.
"During quarantine, I got into baking a little more and the trial and error of it has been both fun and miserable. I also do enjoy drawing and painting when I can, or just being creative and artistic in any way I can." Haider said.
The ability to express herself comes out when she is participating in cheer and Hifi, which makes these activities even more special for Haider. Although she can't pick a favorite between the two, they both have a special place in her heart. Her hard work for both of the groups has definitely paid off as she's realized that skill doesn't come so suddenly and that she actually has to push herself while participating in these activities.
"They both are two things that I enjoy and can express myself with, which makes it hard to choose. [Cheer] never looked like an "easy" sport and now that I am on the team, I realize that it definitely is a challenge but the hard work always pays off when you get to see you and your team succeed," Haider said.