Top 5 Waterparks Songs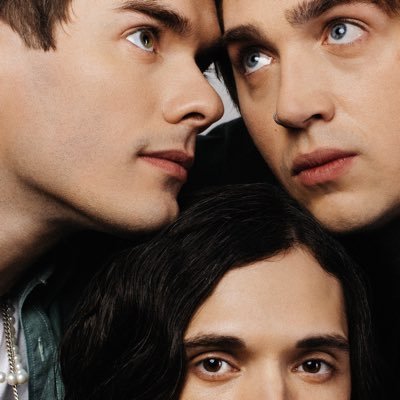 Waterparks is a three-member pop-rock band that was formed in 2011. They are from Houston, Texas, and they mainly write alternative/indie music. The members include drummer and back-up vocalist Otto Wood, lead guitarist and back-up vocalist Geoff Wigington, and lead vocalist and rhythm guitarist Awsten Knight. Knight has written a book called "You'd be Paranoid Too (If Everyone Was Out to Get You)." Their most recent album is "Fandom," which was released around this time last year. These are the top 5 best songs that they have produced throughout their whole career.
1. Peach (Lobotomy)
Personally, I think this song takes the number one spot because it has a very summer-type vibe to it. It's super happy and upbeat, and just a really good song to jam out to. The whistling in the beginning and before the chorus really brings it together well, and it's a good song to listen to after a rough day, as its relaxing. I personally like to listen to it while I do homework, as it isn't too intrusive. If you haven't heard Waterparks before, I highly recommend this song. Knight has stated that the song is about being so in love with someone that they take over all your thoughts. The song got its name from Knights synesthesia. It comes from their fifth album "Entertainment" and was released in 2018.
2. Take Her to the Moon
This song has a really upbeat feel to it as well. It is also pretty relaxing, but it has a little more going on than "Peach." I like to listen to this song while doing something or just to vibe, but it might not be good to listen to while doing homework. It's not overly sappy and has a really catchy beat, and I really recommend listening to it. It has sort of a similar vibe to "Peach." Its name is a reference to Inside Out, following the trend of one track per album being named after a Disney movie. The song is about emotions, and wanting one's crush to be reciprocated. It comes from their fourth album "Double Dare" and was released in 2016.
3. Made in America
This song is very different from the previous two. While it is upbeat, it's loud. It's the same genre as the previous songs, but there's a lot more going on. It's a very good song, but it's more of a 'jam out' song, so I wouldn't recommend trying to do homework to it. It's one of their best and underrated songs, so I really recommend checking it out. The song talks about the misconceptions about the standards of an American teen, and how many teens try to hide their flaws and insecurities. It comes from their fourth album "Double Dare" and was released in 2016.
4. Gloom Boys
This song has less going on than "Made in America," but the chorus is still pretty fast-paced. It might be good to do homework too, but I wouldn't recommend trying to do an assignment that requires a lot of focus on it. It has a really catchy beat, but it follows the 'Pumped up Kicks' effect. Still, I highly recommend it, as it's a really good song. The song is from Knights' perspective, talking about how it's funny that he can only ever write good music when he feels sad. He's calling himself and his bandmates 'gloom boys' because of this fact. It comes from their fourth album Double Dare and was released in 2016.
5. Blonde
Last but definitely not least, we have "Blonde." This is actually the song that gave the Waterparks fans their name; Blondes. It has a similar vibe to "Made in America", a lot is going on, and it's quite loud. It's got a good beat and an even better vibe. This song is also about Knight, although it can also be used generally speaking. It references the common stereotype of blondes, that they're easy-going and constantly happy, which contrasts with Knights (a natural blonde) usual attitude. It also talks about the 6 months or so prior to the release of the song, which was hectic with touring for the band. It comes from their fifth album "Entertainment" and was released in 2018.