Fall in Love With Luh Kel's Latest Album "L.O.V.E"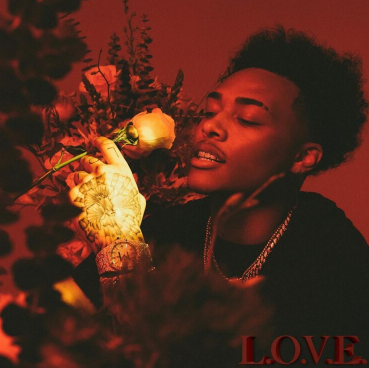 Artist on the rise, Luh Kel, also known as Turran Coleman, dropped his second record "L.O.V.E." on Oct. 23. The album includes 14 songs and features artists such as Lil Tjay and Queen Naija. Luh Kel has a history of gaining fans and attention from other people off of songs on his previous album "Mixed Emotions," so it shouldn't come as a surprise if this album has a few songs that blow up on the social media platform, Tiktok, and get stuck in your head all day.
Although this album is more soulful R&B compared to his last album, it surely doesn't disappoint. The album encompasses the idea of falling in love and being so obsessed and happy with your significant other that all seems to be right in the world.
The first song, "All In You," is my favorite song off the album. The song itself is very sweet and charming as Luh Kel's melodic voice blends in with the beat of the bass in the background. My favorite part of the song has to be when he sings, "So baby come talk to me, confide in me/Your love I need, it's drivin' me" because it symbolizes what a relationship with someone you really like should be—where you confide in one another and communicate how you feel. The message of being all for a person and not giving up on them, along with the perfect melody of the song, will leave you thinking about someone and vibe at the same time.
Another top song off the album is "Real," in which Luh Kel talks about never being the one to break his girl's heart as well as always wanting her to be honest with him over anything. He sings, "say how you feel for me, show me you real with me," to emphasize that their relationship should be based on nothing but honesty and truth. A more upbeat song on the album is "Y.O.U.," as he illustrates his need and love for his girl while admiring her from the sidelines and falling deeper and deeper in love.
The most popular song off of the album is most definitely, "Wrong (Remix)," featuring none other than Lil Tjay. The harmonization between the two artists is phenomenal, and you can't help but replay the song over to hear how well they sound together. The song starts off with the chorus as both Lil Tjay and Luh Kel explain how they fell head over heels over a girl, but in the end, they were both fooled. Although this song sends a different message of love and how it can be deceiving, it still embodies the element of love is powerful and mesmerizing at first.
The album itself and cover are honestly so beautiful and creative. All the songs sound different from each other as the beats of the songs place a picture full of fantasy and happiness in your head while listening. I'd give this album a nine out of ten and encourage you to give it a listen.