Trippie Redd Experiments with New Album "Pegasus"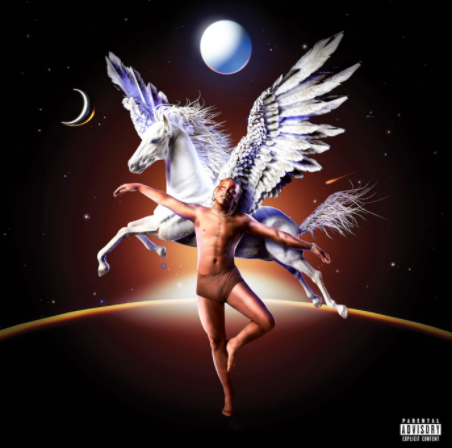 Ohio native and rapper Trippie Redd, also known as Michael Lamar White IV, released his third album "Pegasus" on Friday, Oct. 30 and shocked fans all over the country. Although this album isn't as lively and upbeat as his previous two albums, Trippie takes a different route and expresses his creative flair. The album includes a tracklist of 26 songs featuring an extensive amount of guest appearances, along with six different sound effects to put the album together. The album features key artists such as Chris Brown, PARTYNEXTDOOR, Quavo, Future, Busta Rhymes, and Lil Wayne.
To start off with the negatives, the only part of this album that's a little off course and not as meaningful or artistic as Trippie's previous albums is the 'Spooky Sounds'. In the six-track epilogue, they're just explorations of a single sound repeated for each track such as "Woo" or "Growl" and they're meant to sound spooky and scary. I didn't think these tracks were necessary for the album, but I think Trippie was just trying to do something different from what he usually does.
The first half of the album is similar to Trippie's style of music, with soulful beats and lyrics talking about love and relationship problems while he reveals his vulnerable side. A few of my favorites that display this sweet side of Trippie are "Moonlight," "Love Scars 4," and "So Stressed". The harmonic and soothing voice of Trippie is highlighted in these songs with a slow rhythm to keep you mesmerized.
In "Moonlight," Trippie sings of him and his lover with words of enchantment as he says "I just wanna be with you, under the moonlight" and sounds as though he's writing a letter while speaking from his heart. This song is definitely more chill than the other songs featured towards the end of the album. On "Love Scars 4," Trippie adds a little bass and a few keys that are slow and gentle throughout the song. He includes repetition while he sings the words "I know, I know, that you're still in love" to describe his intentions and how he can see right through the girl he's in love with.
A few other bangers on the album include "I Got You," with Busta Rhymes, "Excitement" with PARTYNEXTDOOR, and "Sleepy Hollow." These songs are way more upbeat and give you a feel of the spunk Trippie Redd has as the album becomes more thematic. The track "Excitement" also became a huge TikTok hit in August although the single originally dropped back in mid-May.
"Pegasus" has a few moments where you question if whether or not some of the songs are Trippie's or not, but the variations upon his established creation make for a more integrated, experiential listen. From beginning to end, the album is a journey to enjoy, it's full of bumps and left-turns that'll make you appreciate the destination even more. I overall would rate this album a 7.5/10 because I was expecting a little more of the original Trippie, rather than this experimental side of him.