Actress Lily James Shines in Netflix Original "Rebecca"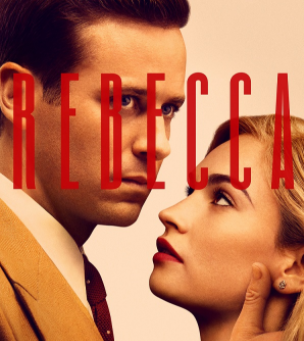 Netflix original movie "Rebecca," features star Lily James as the film presents a more modern take on famous director Alfred Hitchcock's version from 1938. The movie premiered on Netflix Oct. 21 and captures the latest adaption of the suspenseful classic of "Rebecca." The production and quality of the film are overall amazing, but the plot is what keeps you in a trance.
The movie is around two hours long and portrays the story of an unnamed young woman who falls deeply in love with the wealthy widower Maxim de Winter, played by Armie Hammer. Although I've never read the book this movie is based on or the other movie adaptations of the book, I still felt that this story had a well thought out plot full of love and suspense. While quickly falling in love with Maxim, she has swept away from her ordinary life as a lady's assistant and then proceeds to go live with him on his rich property and lavish estate of Manderlay.
They quickly end up marrying each other before she goes to live with him on his estate, but when she arrives she soon realizes that she lives in the shadow of his late wife, Rebecca. The late Madame de Winter's spirit seems to lurk within the home and in the hearts of the servants and maids of the house. The story continues on with Rebecca leaving the new Madame de Winter with large shoes to fill and the constant uncertainty of herself and how to compete with Maxim's late wife.
To make her new life more complicated, the housekeeper, played by Kristin Scott Thomas, who adored Rebecca and watched her grow up loathes the idea of a new Madame de Winter replacing her. While caught between adjusting to her new life as apart of the wealthy class, married to her husband who keeps secrets from her, and barely understanding the loyalty to Rebecca everyone has, she learns of a new secret that eventually draws her and Maxim closer.
The music, acting, and quality of the film is phenomenal and was better than I expected it to be. What caught my eye originally and drew my attention to want to watch this movie was the fact that it was on Netflix's top 10 trending spot. I also find that every movie that stars Lily James is miraculous in its own sense due to her articulate and passionate acting. I highly recommend giving this movie a view if you have nothing better to do or if you like a thriller and suspenseful movie and I would give it a rating of 8.5/10.