"Holidate" Leaves Everyone Wanting A Holiday Date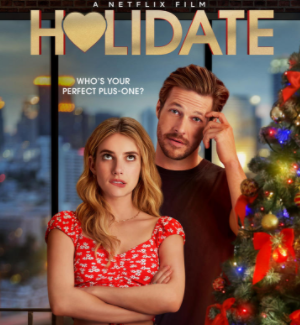 With the holidays approaching, it's never too early to start watching holiday films. Netflix's new original movie, "Holidate," isn't exactly what you'd expect from your typical rom-com. Starring Emma Roberts and Luke Bracey, the single pair of Chicagoans who are Sloane and Jackson, cross paths at the mall during the holiday season, both desperate to bring someone home to their families, they come to an agreement that they will platonically "date" during each holiday.
As I mentioned before, this isn't your typical rom-com. "Holidate" didn't feature as much traditional romance as I anticipated but Sloane and Jackson were more a platonic couple, to begin with anyway. There was always some form of relationships being mentioned in the movie though. Sloane's sister-in-law, Liz, played by Cynthy Wu, and her biological sister, Abby, played by Jessica Capshaw, were always trying to convince Sloane to get with their mom's new neighbor, Farooq, or with Rodney the clown. Needless to say, Sloane was that one cousin who's in their mid to late 20's who wasn't romantically involved with anyone while the rest of her siblings and cousins were. So all in all, she was always a target at family holiday events because she didn't have anyone to bring home with her, which is the main reason she needed a Holidate, a date only during the holidays.
With Sloane constantly being judged and attacked by her family members, especially her mother, she agrees to Jackson's plea and they become each other's Holidate. The movie focuses more on Sloane's family and the way her family was projected throughout the movie is pretty typical. Her mom is a single mom, her aunt Susan is what you would categorize as the "fun aunt" and brought a new date to every holiday, Abby was always the nosy sister trying to butt into Sloane's life, etc. I'd have to say that apart from Sloane and Jackson, aunt Susan was the real star of the movie. Her hilariously inappropriate remarks and logic of romance is top tier and brings the whole movie together.
Not only was aunt Susan the one with the inappropriate remarks, but the whole family was also, which made the comedy aspect of the movie. I loved how they could all joke around with each other and no one would be offended, it reminds me of how my cousins and I are with each other. Aside from the comedy, I think Roberts and Bracey really played their roles well and I could even see them becoming a couple in real life, although Roberts already has a boyfriend.
Towards the end of the movie, something happens between them that both makes them rethink their feelings for one another. The next holiday was Thanksgiving, which was an awkward and heartbreaking interaction between them, to say the least. I like how when they both decided to separate, they were talking about feelings and how Sloane was too afraid to be vulnerable and accept her feelings for Jackson. I feel like that is a realistic and relatable moment in the movie for most people who can relate or feel to Sloane's character and attitude in that scene.
The one downside of the movie is the built-up anticipation for them to eventually admit their feelings for each other and become a couple. They waited until the last 7-10 minutes of the movie to do that so I couldn't even really enjoy them as a couple as much as I wanted. Since I did say I do ship them, I wished there would've been a couple of more romantic scenes between them but unfortunately, we didn't get that.
I will say the ending is so utterly cheesy and almost predictable but it definitely helped tie the whole movie together. Although some might say this was a terrible take on a rom-com, I thoroughly enjoyed watching the movie as it kept me laughing almost all the time. I recommend this movie to everyone and I would give it an 8/10.