3-0 to 5-7?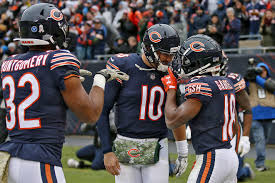 After falling to the Detroit Lions this past weekend in an NFC North match up, head coach Matt Nagy and general manager Ryan Pace are now on the hot seat as Chicago Bears fans lose all playoff hope and focus on restructuring this team and organization.
The Bears entered this week 13 game against the Lions with a chip on their shoulder after getting blown out at Lambeau field to the Green Bay Packers, as well as getting called out publicly by Nagy in a press conference the next morning after the game.
Watching this game, the Bears had control for the majority of the game, ran the ball well with running back David Montgomery as he ran for 72 yards including a pair of TD's. The Bears defense experienced trouble stopping Lions QB Matthew Stafford as he had a field day on our secondary, Stafford threw for over 400 yards and 3 TD's which ultimately led to the Lions improvement of 5-7.
The Bears lost this game on bad coaching which has been an on going trend this season, looking ahead there needs to be changes happening or else the Bears won't be seeing any sight of the playoffs anytime soon.
The offensive line played better than some of the past few games we've seen although their protection for Trubisky could improve as that was one of the main reasons for the forced fumble late in the 4th quarter which allowed the Lions offense to take the lead in the game.
As the Bears start looking into the off season, there comes a couple questions to mind that Bears fans may wonder, one of them may be where do we stand with our QB situation. Trubisky started the first 3 games at 3-0 then had his starting spot stolen by veteran QB Nick Foles who went on a long losing streak after taking over. This upcoming draft class is full of star QB's, although the top 2 QB's in this draft (Trevor Lawrence & Justin Fields) seem unrealistic to get. I'm looking at other high ranked QB's like  Zach Wilson who's coming from BYU as he is close to ending his 2020 season with almost 3,000 passing yards on top of 35 passing and rushing TD's with more stats to come as the college football season nears an end. Mac Jones from Alabama is making his mark as well as he has thrown for over 3,000 passing yards along with a combined 28 TD's as he makes his draft stock approach higher and higher on the board as the season progresses.
Another topic of discussion is on the defensive side, the organization uses 65% of it's money on defense which explains the rubbish offense. We signed DE Robert Quinn this past off season to a 70,000,000, 5-year contract and he has done nothing for Chicago, while we still have our star pass rusher Khalil Mack who's contract is worth about 230 million dollars and hasn't seen that much production this year either. In order to have the cap space to make things happen on the offense, some of the defensive keys may have to let up if we want any chance at the Lombardi trophy.
All in all, the Bears need to scrap everything and start rebuilding or the next couple of seasons can start looking real ugly for Bears fans.