Legends Mike Tyson and Roy Jones Jr. Return to the Ring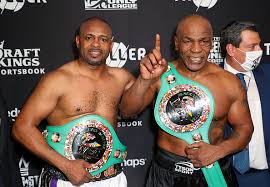 On Saturday November 28, two former legendary fighters took the ring, and they did not disappoint. Although age played a factor in this fight, they still put on a show for the millions watching at home. Everything from this night was legendary, and it will be remembered for some time as a spark plug for other former champions to step in the ring.
Everyone remotely involved in sports knows who Mike Tyson is, he ran the late 80's and still dominates pop culture today.  He is widely considered one of the greatest boxers ever.  A prime Iron Mike dealt devastating blows to his opponents and was a fan favorite, being proclaimed by fans as "The Baddest Man on the Planet". Tyson was and still is a true peoples champ but many are unfamiliar with his challenger Roy Jones. However all boxing fans know Roy Jones was also a great fighter back in the 90's.  Known for his jazzy movement and signature hands on his waist stance he was a joy to watch.  He was also a world champion for four different weight classes being middleweight, super middleweight, light heavyweight, and heavyweight.
Everything was set for these two legends to go head to head in the ring.  The fight was very hyped and had some great undercard matches beforehand.  One including Jake Paul vs Nate Robinson. This fight ended with a cold hearted knock out as Jake Paul sent Nate Robinson to the canvas three times in two rounds.  The last one being the most brutal. Paul threw a swing right to the temple and Robinson was down and out for millions to witness.
After all this we got to watch Tyson take on Jones.  Throughout the fight it seemed as if they were both being cautious and careful.  Health was definitely a concern as there was a no knockout rule enforce.  For this reason the fight wasn't as action packed as many thought.  Tyson seemed to dominate the whole fight, but the judges did not believe so.  As professional UFC fighter Israel Adesanya said himself "I believe Tyson won but it was so close."
Tyson and Jones hope to do something again like this in the future which will definitely be something to hope for.