Millie Bobby Brown Branches Out in "Enola Holmes"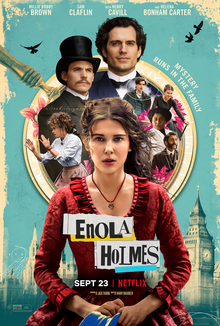 The story of "Enola Holmes" came to light on the big screen for the first time on Sep. 23. 2020. The film, starring Millie Bobby Brown, is based on the first book in the young adult fiction series by Nancy Springer. The movie follows Enola Holmes as she runs from her brothers, Sherlock and Mycroft, and races to find her mother. Along the way, she meets many curious characters, such as the young Lord Tewkesbury.
The movie begins with Enola talking about her past, for example, how she was close with her mother, who homeschooled her. On her sixteenth birthday, however, Enola finds that her mother has disappeared. She calls her brothers, who immediately dismiss her. As Enola is Mycroft's ward, he plans to send her off to boarding school. Enola, of course, refuses. To summarize what happened without spoiling the end, Enola runs off to find her mother, picking up hidden clues to her whereabouts while her brothers try to chase her down.
In terms of the cast, Millie Bobby Brown was a very good choice for the role of Enola. She has previously played the role of Eleven in "Stranger Things," which did a similar task of solving clues to find the bad guys, though in a much different setting. She is able to embody the childlike innocence and brainiac attitude of Enola perfectly.
Henrey Cavill plays Sherlock Holmes, the genius detective, and the nicer brother. He plays this role very well and comes across as very caring as well as very smart. Sam Claflin plays Enola's other big brother, Mycroft Holmes. He is an antagonist-type character who tries to catch Enola to send her off to a boarding school for young ladies, as he sees her as unfit to be a woman.
Sam Claflin plays this role perfectly, even twirling the mustache given to his character like a true villain. Louis Partridge plays the mysterious Lord Tewkesbury. He is a very good fit for the role and is able to portray Lord Tewkesburys childlike innocence and minimal knowledge of commonfolk.
"Enola Holmes" was a great movie, which is not something I'd entirely expected. Changing the original story of Sherlock Holmes did annoy me, as I respect the originals and really enjoy them, but nevertheless, the movie was very good. I would have preferred if Sherlock had stayed his emotionless and detached self, as well as if Watson had made an appearance, but even without these, the movie was a hit. I'd rate this movie at least an 8/10 for sure, and I'd recommend this movie to anyone who likes a good mystery.