The Holiday Movies That Made Us: Worth the Watch?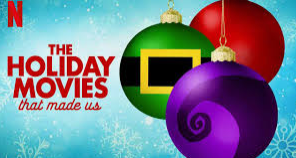 I love everything that there is to do about the holiday season. I love to play Christmas music, light my favorite winter candles, sit by the fireplace with a good book, and of course, watch one of my favorite genres of movies. Growing up with multiple engineers in the family, we'd always watch the special features of movies that show the production process, so I was really looking forward to the new Netflix series, "The Holiday Movies That Made Us."
This series features different iconic holiday movies that really have shaped a lot of American and global culture. It goes into detail about the making, casting, and gathering of the perfect staff, as well as the filming process. As of right now, there are only two episodes, one on "Elf" and one on "The Nightmare Before Christmas," two beloved classics.
This series had all of the makings to be extraordinary. It had interviews with important people who worked directly on the films and made many decisions, and it really dug deep into the history and path of production. However, the way that the episodes were edited made it so much harder to sit through. The chaotic cuts and oftentimes unnecessary voiceovers really took away from the professional personal interviews. They also made it seem more like a YouTube video, although I'd almost much rather watch a WatchMojo video than this series.
The "Elf" episode focused on the legal difficulties that the team had to go through to make sure the movie was as lawfully originally and inspired as could be. It was also centered around the filming of special effects. For example, Will Ferrell, the actor who played Buddy the Elf, was not really 10 times larger than the other school-elves in the classroom. The episode showed very interesting behind-the-scenes clips that explained the special effects, which were really cool to see.
The "The Nightmare Before Christmas" episode took a slightly different route. It focused on Tim Burton's growth of the idea for the movie while he was still at Disney, and then how the crew nurtured the idea and grew it into the famous flick that it is today. It also went into great depth about the struggles of filming stop-motion. It would take days just to film one minute of the movie, and the movie ended up taking over two years to make. This second episode was definitely more fixated on the corporate aspect of filmmaking.
While I do think there are better documentaries and series that explore what goes into a movie, I did learn a lot from "The Holiday Movies That Made Us." I don't think I'd watch it again, but I don't regret watching it for the first time. I would recommend it to anyone who's interested in filmmaking, especially stop-motion production.