Kid Cudi's "Man On the Moon III: The Chosen" Is Out Of This World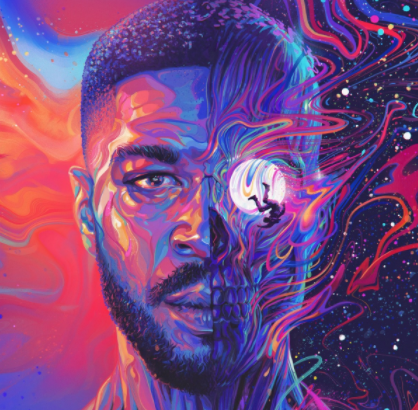 Kid Cudi is regarded as someone who has heavily influenced the alt-rap/hip-hop music scene. Many artists are quick to credit him for being their biggest influence, and his impact can be seen throughout the industry. The fan-favorite artist returned with his newest album and the last installment of the "Man On the Moon" trilogy, "Man On the Moon III: The Chosen."
Cudi was one of the first music artists who openly sang about struggling with depression and other mental illnesses. For many people, he showed them that it was okay to feel this way and that they weren't alone. Notably, comedian and SNL cast member Pete Davidson often credits Cudi for saving his life due to his openness. Cudi carries this same philosophy into his newest, euphoric album and is again open about his struggles.
The album begins with "Beautiful Trip," a 37-second intro that showcases Cudi's famous hums, which fans have grown to recognize and love over the years. Besides his impact on the industry and all the other incredible feats that have gained him notoriety, most people recognize him for his hums. That being considered, I think this was the perfect intro.
Directly following "Beautiful Trip," and the first "real" song on the album, is "Tequila Shots," which is one of my favorite songs off the album. This song feels nostalgic and very true to Cudi's style. It has the same futuristic style of beat, which Cudi flawlessly sings/raps over, making it feel like a song off of "Man on the Moon: The End of Day."
Though I could talk for hours on how much Cudi has influenced the modern-day, lyrical, emo rap game, I also think it's worth noting the influence today's rap game had on this album. I think this can especially be seen in "She Knows This." This song felt like a Don Toliver song and didn't feel like something Cudi would normally release, but it fit him so well at the same time. This song was more upbeat and had the popular style beat with constant 808s, with Cudi's voice overlaying.
Another favorite of mine was "Rockstar Knights," featuring Trippie Redd. This song had all the components of a good Cudi song. Cudi switches from rapping, to singing, to talking, over a great beat, with Trippie Redd nailing the chorus, making a banger. This song, lyrically, focuses a lot on death, which speaks to rappers' fixation on death, and drugs, which have become a staple in rap lyrics. Trippie Redd repeats in the chorus, "Rock star life, thinkin' back, I could be dead," insinuating his drug use should've cost him his life.
The album overall had a good mix of the old Cudi that we all know and love, and a new modernized sound that Cudi flawlessly executes. Songs like "Show Out," "Mr. Solo Dolo III," and "The Void," make this album a solid 10/10 in my books. I'd highly recommend everyone to give it a listen.