Northwestern Makes Big Ten Conference Championship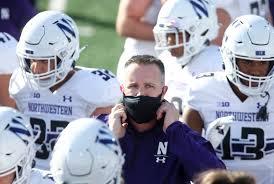 Although chances look slim for the Northwestern Wildcats to make the College Football Playoffs this year. They are set to take on the undefeated Ohio State Buckeyes this Saturday in a Big Ten Conference Championship.
It's no surprise that head coach Ryan Day's Buckeyes make the Conference Championship this season having won the previous 3 years, but for the Wildcats who haven't won since 1995, they will go into Lucas Oil Stadium with something to prove.
The Wildcats have had an unexpected successful season having gone 6-1 and beating the Wisconsin Badgers in week 5 of the Big Ten season. This caused heads to turn and tune into this program. This couldn't have been done without the bright minded head coach Pat Fitzgerald whose led the Wildcats to an astonishing nine bowl games in his thirteen years as head coach. Most of his success wouldn't have been accomplished without the help of the Indiana Hoosier transfer, QB Peyton Ramsey, whose put over 1,200 yards and 9 TD's in the span of 7 games. Ramsey as a dual threat QB is fun to watch, the way he uses the pocket and visions the field is a key part to their success on offense.
Although getting to the Championship is an honor itself for the Wildcats program, attempting to beat the Buckeyes is a whole other obstacle course. The Buckeyes are one of the most dominant College Football programs the NCAA has ever seen. With 8 national championships and 38 conference championships, the Buckeyes rank second all time in winning percentage which is a statistic you would hate to see if you have a match up with them.
If the Wildcats want any success in this game they'll need to find a way to shut down the projected second overall pick in the NFL Draft this upcoming year, Justin Fields. In August, Fields had started a petition requesting that the Big Ten reinstate their 2020 football season, and rightfully so they did. Fields in his past two seasons as a Buckeye put up over 4,600 passing yards, 71 passing and rushing TD's on top of his 723 rushing yards as a QB, making him a force to be reckoned with considering the wheels and arm he has.
The game will be televised at noon on Saturday, on channel FOX.