Frontline Healthcare Workers and Their Work Life During COVID-19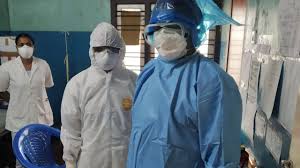 It's been about ten months since the novel Coronavirus spread to the United States, and here to Skokie specifically, sending students and teachers home for what many believed to just be an extended spring break.
In the past ten months, those working in hospitals have become heroes, even more so than they were before the pandemic hit. They've spent hours upon hours exposing themselves to the virus, watching those with the virus take their last breaths, and some with the virus recover and walk out of the hospital. No matter the outcome, these front line workers continue to risk their lives every day for us to hopefully be able to live a normal, maskless life someday soon, despite the fact that many Americans seem to be unphased by the virus, as shown by their continuous travel plans, social gatherings, and anti-mask efforts.
The Niles West News reached out to parents of Niles West students and asked to interview them on their experiences on the front lines.
"I am working now and worked during the first wave. A lot of things have changed as a result of the virus. People are fatigued and exhausted from being cooped up for so long that they are getting complacent with following state-mandated protocols and CDC regulations," Dr. Mohammed Shabbir, who works as a pediatric and internal medicine specialist at St. James Hospital in Olympia Fields, said.
Unfortunately, just because people have stopped following the mandates related to the Coronavirus doesn't mean it's getting any better.
"We just had our deadliest day ever as a country concerning the virus. Just last week, I watched from my window as they loaded bodies into a truck for the morgue," Nona Lipsit, who works as a physical therapist at St. Joseph Hospital in Chicago, said.
Many of the front line workers we talked to reminisced on a time before the virus.
"We didn't wear gloves or masks, and we didn't have to wear all this protective equipment we are required to now. Washing our hands… even after touching the littlest things is the new normal. Touch something, wash your hands, touch something wash your hands. My hands are chapped and raw from using all the hand sanitizer and the alcohol and wipes. Before the virus, we were a lot freer," Maryann Pehar, who works as an LPN at The Carrington, said.
During the initial outbreak in March, many news stations reported on the heartbreaking circumstances of COVID-19 patients' deaths, and how ultimately, they were left to die alone because of the strict visiting restrictions.
"Working during COVID, we're required to screen every patient prior to procedure. We don't even allow family members to visit anymore," Brigita Rizzotti, an RN at Northwestern Memorial Hospital, said.
Hearing about it on the news is heartbreaking enough, but these front line workers have to experience it firsthand, in real life.
"Myself and my coworkers have watched patients die all alone, without family members, or even the comfort of even getting to see our faces because of all our protective gear," Lipsit said.
The news of patients' isolated deaths were not the only heartbreaking circumstances the nation heard about revolving around COVID-19. Many hospitals, nursing homes, and other facilities began to run low on the equipment essential to battling the virus.
"Fortunately, the hospital I work at is supplied with enough PPE and ventilators, but this is a privilege, as many hospitals across the Country are at full capacity. This upward trend of hospitalizations needs to be mitigated if the country wants to go back to where we were," Dr. Shabbir said.
Although all of these frontline workers have shared difference experiences and perspectives, there is one thing that they all share in common: the important of social distancing and mask-wearing.
"The most important thing now is wearing masks. With a new mutation already in the U.S and the highest fatality numbers coming out, there's little chance things will get back to normal until we continue to wear masks and social distance," Jennifer Greene, who works at the assisted living facility Three Crowns as the nurses' manager, said.
Some of these frontline workers even believe wearing a mask should be a national mandate, which is a statement many public health officials, including Dr. Anthony Fauci, have agreed with.
"Wearing a mask has shown to be excellent protection from contracting the virus. Furthermore, it should be a national mandate because state by state the regulations are not the same," Rizzotti said.
Many of us look at those interviewed in this article as the friends of our parents or peers, or even our own parents, but in reality, they are so much more than that. These are the men and women that are going to save the world. They will be the reason we return to normalcy anytime soon, or anytime at all.