Drivers License: The Heartbreak Anthem of 2021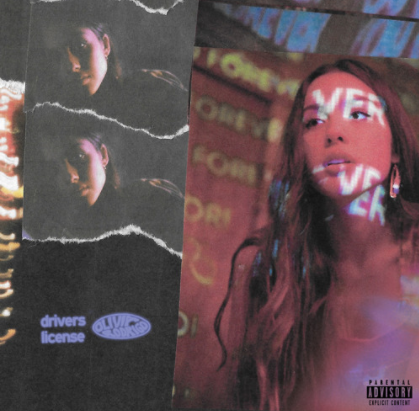 I've pretty much had Tik Tok deleted for the last month, because of an agreement I made with my best friend. We both agreed we were spending way too much time on Tik Tok, and deleting it would be beneficial to our mental health. So Ela Kinaci, if you see this, I'm really sorry. I promise I only downloaded it once and then deleted it right after (and then re-downloaded it three times).
Anyways, I'm all excited to start scrolling through my "For You Page," and see what I've missed out on for a month. I was expecting a variety of videos, reflecting all the different trends going on right now. However, as I was scrolling, I noticed that there was really only one trend going on…like literally my whole entire FYP was just one song or a variation/edit of it. Everyone was using High School Musical The Series actress, Olivia Rodrigo's new song "Driver's License" as the audio to their videos of them either throwing themselves on the ground and sobbing hysterically or a slideshow of pictures of people with their ex-significant others.
After scrolling about a hundred times, I decided I was obsessed with the song and I've probably listened to it a thousand times. The song is so heartfelt and sounds so authentic, I just had to get the tea on who it was about…and OMG, so much drama!
Long story short, Rodrigo and her costar, Joshua Bassett were basically in love, but Rodrigo was only 17, and Bassett was 20. He promised Rodrigo he would wait for her to be of age for them to officially be together, and even taught her how to drive and wrote a song about her.
It seems that Bassett didn't keep his promise, as Sabrina Carpenter and long term boyfriend Griffin Gluck, split up, and not long after, Carpenter and Bassett began to get romantically involved. Hence the song, "Drivers License." In the song, Rodrigo sings about the heartbreak she's experienced as a result of Bassett's betrayal, and how getting her driver's license reminds her of him, but she knows he will never be hers. So instead of driving around with him, she drives past his house and reminisces.
I really love this song because not only does it make me cry instantly at the chorus, despite the fact that I have absolutely no boy trouble at all, and nothing to really cry about, it's so real! She didn't hide anything from her fans.
For example, one lyric goes "and you're probably with that blonde girl who always made me doubt. She's so much older than me, she's everything I'm insecure about…" Yep, you guessed it! Carpenter does indeed have blonde hair, and she is 21, making her almost four years older than Rodrigo. Rodrigo also references Bassett's white car and the song he wrote about her, which she believes never meant anything to him.
The chorus will literally have you screaming-driving your car at 11 pm through your suburbs, even if you've never had a boyfriend or girlfriend. This song is so emotional, and so good, which explains why it's already in the Top 50 songs for Amazon Music, Spotify, and Apple Music.
Basically, Rodrigo is the next Taylor Swift, and Bassett, or as Tik Tok likes to now call him "Joshua Basketball" is the next John Meyer. Rodrigo, feel free to drop the address of the so-called house you drive past in the song, the fans would love to pay Bassett a visit.  Overall, the song is definitely a 10/10 and I can't wait to see Rodrigo thrive without Bassett and release more heart-wrenching songs soon!