Lil Skies is "Unbothered" in Newest Album Drop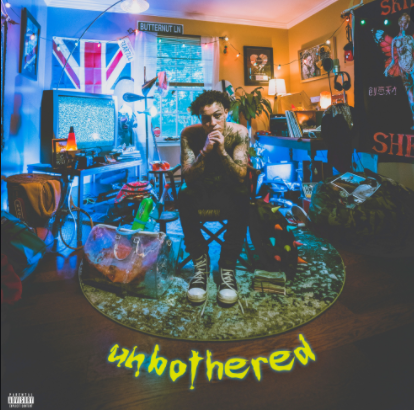 Composed with 14 songs, rapper Lil Skies, also known as Kimetrius Christopher Foose, releases his third studio album labeled "Unbothered" on Jan. 22 to spice up the beginning of 2021. The album itself describes Skies closer insight on his journey through his career and just how far he's come as a person and an artist.
The album is a step away from the somber hum of his earlier hits in his career, but the energy of his past albums aren't abandoned whatsoever. "Unbothered" is based on two key principles, stunting and flexing on those who doubted him and thriving through the life that Skies has created for himself and with the help of his supporters.
In the song "Havin My Way" featuring Lil Durk, Skies writes about him feeling blessed yet also bragging in a sense about the things he has present in his life. In the song, he writes, "I don't put my trust in no one… I had to go with the right plan…Separate me from the fakes," which I honestly agree with him on this when it comes to dealing with people in your life who just want to take advantage of you and then leave. There's a line where he says, "I'm thanking God, 'cause I'm double blessed," and the emphasis is placed on his vocals, on his ability to utilize his voice as an instrument. The song itself is very catchy, and you give in instantly once you hear the first set of lyrics with the guitar stums in the beginning. It's definitely my top favorite off of this album.
A few other honorable mentions of the album are "On Sight" and "Riot." "On Sight" reminds me a little of "I" from his second album with the beat in the back and his vocals shining through his lyrics. A more upbeat and rage-filled side of Skies is displayed through "Riot." The song bristles with an obvious sense of anger and sounds like a daunting hymn.
Working within clear definitions, "Unbothered" feels more concentrated than his previous work, the sound of someone choosing to work with what they know. Within the lyrics, the songs are expressed through pain and redemption, trailing on messages of determination and renewal. He may claim to be "Unbothered," but the marks of the pandemic are there for all to see on a brave and strong new album.
I would give this album an 8/10 and highly recommend you give it a listen and maybe add one or two songs to your next playlist.