District 219 Explores Back-To-School Options, Addresses Concerns
District 219 administration released a comprehensive back to school plan on Dec. 17, 2020, which outlined possible scenarios that may occur when students are brought back into the building during COVID-19. Currently, there is no date set for when students will be allowed in the building, but as surrounding districts are re-opening for in-person and hybrid instruction, district 219 is exploring what a return to school would look like.
Returning to school won't be mandatory, and students who opt to remain remote will learn the same material as those who choose to return. According to Niles West Principal Dr. Karen Ritter, courses could be taught in person and via Zoom simultaneously, reaching both in-person and at-home learners.
"[Classrooms will] have a projector with the Zoom class on the big screen, so that the kids in class can see what's being projected, and the kids at home are still learning remotely. So they're logging into the same Zoom and learning the same lesson, just in different locations," Ritter said.
Although students may be learning in person again, it will be some time before the school experience will return to what it was like pre-COVID.
"The misconception that there is with in-person learning is that you'll be in a regular classroom like we used to be last year, and that's not what's going to happen," Ritter said.
Students will not be allowed to show up to school; they will take a survey each morning to ensure they aren't showing any signs or symptoms of COVID, and they must also abide by all local quarantine orders. This includes quarantining ten days before and after visiting a hot spot state. According to school leadership, West will trust students and families to abide by these guidelines.
"We have to trust that people are wanting to do the right thing," Ritter said. "I don't think anyone would want to come to school if they think they've been exposed to COVID-19, or that they may have a chance of having it."
This sense of trust will also extend to mask-wearing, which is required at all times while in the Niles West building.
"I think our kids are going to do the right thing, and they adjusted very very well when students had to begin displaying their IDs at the front entrance. We had no problems with that, so I really think that kids will be well behaved [when it comes to mask-wearing]," Ritter said.  "We shouldn't anticipate them doing the wrong thing. I think everyone's going to be respectful of everyone's safety and our new normal. We also have signage everywhere in the building as a constant reminder."
A student or teacher's inability to wear a mask will result in them being sent home, either for the day, or permanently if they continue to refuse to follow precautions. This applies unless they are a student who has been cleared to not wear a mask for medical reasons. According to district leadership, such medical concerns may include special education accommodations for hearing or speaking, as in the case of a speech impediment or the need to read lips.
Students will not be permitted to remove masks off during lunch either, since none of the re-opening options offer in-person lunch eating at the school.
"Lunch is going to look different. You're not having lunch in the cafeteria, you're not eating lunch in school; you would get a sack lunch, similar to what we provide now on the pickup days. And then, if you're coming in for the morning session, you would leave with a sack lunch. If you're coming in for the afternoon, you'd probably get one, upon arrival, but you can't eat it there," Ritter said. Depending on which return-to-school model District 219 adopts, students could attend in morning or afternoon shifts, or attend school by grade-level.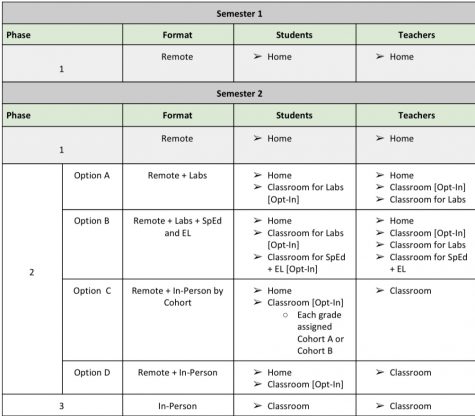 In the event that a student does test positive for COVID-19, the school will follow CDC and Skokie Health Department guidelines to ensure safety.
"Our nurses will be heavily involved in that process. If someone does test positive for COVID-19, they'll be quarantined for 14 days at home. They won't be allowed to come back to school until they've been cleared. If they do display any symptoms of COVID-19, we send them home, and we're probably going to require testing for them to get the clear to come back. We may have to notify classrooms of students or the school, in general, to let everybody know that there was a person that tested positive for COVID-19," Ritter said.
In terms of contact tracing, the school will do its own initial investigation, but most of that work will be deferred to the Skokie Health Department. The school plans on maintaining an open line of communication with them at all times.
There will be isolated rooms in the building for students showing any signs or symptoms throughout the day as well, which will be very different from the regular nurse's office, where students not exhibiting symptoms would be sent to for any other reason.
"Essentially, when we're talking about isolated areas, we need areas to differentiate between our students, but also [provide] access to get picked up. So we're thinking about the Oakton lobby because it's big, and a parent could just drive up to the doors and pick their student up, and then take the necessary steps after the fact," Niles West Assistant Principal for Operations Steve Parnther said. 
Bathroom access will also change in order to take proper COVID-19 precautions.
"Another thing we have, in terms of protocol, is we've marked off different stalls, that way we limit the number of people who are using the bathroom, meaning you won't be standing next to a person in the bathroom, essentially to create that social distancing. We are working with our staff to limit the number of students going in at one point. There will be a protocol to increase social distancing and that safety piece. We've put X's to close off certain stalls to increase social distancing," Parnther said. 
Things like sharing vape devices and other items that may come into contact with saliva, germs, etc, also present a problem in bathrooms.
"For confidentiality reasons, we can't have security guards inside the bathroom. But, whether it is a pandemic or not we are obviously against vaping, and we will continue reiterating that message. But one thing I will say is, we will look for support from the students as well. Making sure you are reiterating that message and talking to your peers, that way everybody is getting the same message from the adults in the building," Parnther said. 
However, transportation is something that is going to stay relatively similar to pre-COVID-19 times. Bus transportation will still be available to those students who are located within the regular bus zones, and may not be able to find a ride to school.
"I think we're anticipating that a lot of students are going to be getting a ride from their parents. I think that there might be some hesitation to go on the bus, but the bus company does have their own protocols in terms of cleaning," Niles West Superintendent Dr. Steven Isoye said.
Detentions and other traditional disciplinary measures will also be a no go. Detention is just another possible way for COVID-19 to spread, as students would be contained together in a classroom or other designated area.
"I think if kids come back, our focus is safety, I don't think our focus is really going to be on detentions and things of that nature," Parnther said.
The full 43-page handbook and a video explain four possible school re-opening options, and the option selected will depend on how many students indicate an interest in returning to school in person. Check your school email, or click the links provided above, for direct access to these resources for more information.