7DJ: Maluma's Newest Baby
Consisting of seven hit tracks, Colombian reggaeton and trap artist Maluma released his newest mini-album on Jan. 29. What inspired Maluma to write this album after just releasing "Papi Juancho" back in late August of 2020 was his recent getaway retreat to Jamaica.
As corona still roams the Earth, Maluma took his chance to write out a mini-album being based on his days living his best life in Jamaica and providing his fans with some fun and vibey music to keep us settled down and happy despite the pandemic. The title of the album is "7DJ," which stands for "7 Dias en Jamaica".
The album came as a complete surprise to everyone due to the newest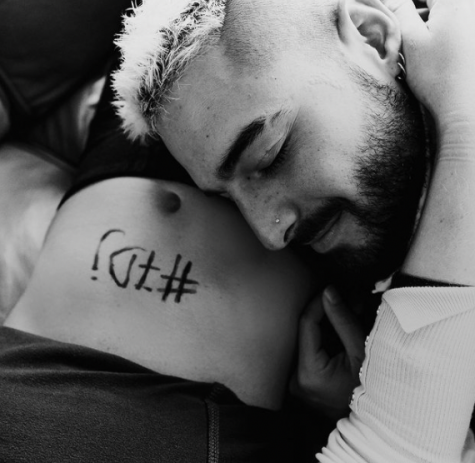 gossip surrounding him and his girlfriend. It was believed that he had gotten herb pregnant when he posted a picture on Instagram with a woman's belly and him laying on it with "7DJ" drawn on her stomach. This left fans depressed and shocked, knowing that Maluma might be having a child so soon. Fans on Twitter were having a brawl and tweeting things such as, "Maluma took 'Maluma baby' way too seriously," relating to his artist tag in every song he produces.
The album starts off very strong and just sounds so pure and energetic at the same time. The first song on the tracklist, "Tonika," featuring the son of the iconic Bob Marley, is Ziggy Marley.  It's only fitting that Maluma collaborated with the son of the best Jamaican artist there is while writing a whole album based on an adventure in Jamaica itself. The song sounds as if you're on the beach at night at a resort having the best night ever and just enjoying the beautiful scenery of the island of Jamaica. The beat at the end of the song continues on into the next song on the tracklist, which makes everything flow so perfectly and angelically.
Although he's in Jamaica, it doesn't mean that he's forgotten about his Latin roots whatsoever. In "La Burbuja," Maluma shows off his boastful side as he sings about his prosperous lifestyle and designer clothing and accessories. The track also captures the true essence of Jamaican basement music as he sings about dancing, twerking, and belly dancing around Jamaica island. The xylophone-like synths and the touch of a signature reggaeton bassline to the mix complete the song and can get just about anyone to dance along to it.
A few other honorable mentions off of this exquisite album are "Agua de Jamaica" and "Peligrosa." "Peligrosa" reminds me of a few of his older songs back in the day due to the beat and tone of the song in general, as it gives off the original Maluma sound.
All in all, I believe this is one of Maluma's best albums yet, even though there are only seven songs. He never ceases to amaze me with the new pieces and lyrics he creates, and this album is a groovy selection that proves this international star's impressive versatility. I'd give this album a 10/10 and recommend you listen to it RIGHT NOW!