The Mental Health Crisis Is Surging, What Has Niles West Done To Aid Students?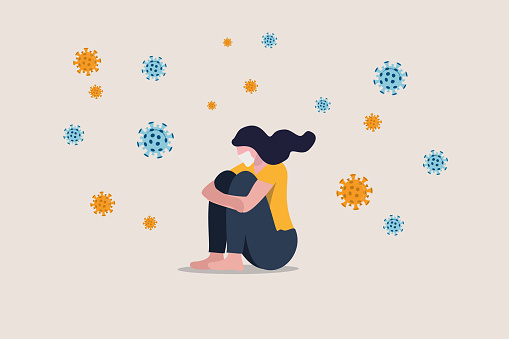 As we are closing in on almost a full year of remote learning, students from grades PreK-12 have been cooped up inside of their homes and have been asked to significantly reduce in-person social interactions. For high school students, who are undergoing a critical physical and mental development period, the cost of keeping yourself safe during the pandemic has been poor mental health for many. A study conducted by the Mission Harbor Behavioral Health in Santa Barbara County found that of about 1,500 teenagers, 7/10 kids reported they were struggling with mental health in one way or another. With rates of anxiety and depression increasing, how has Niles West sought to aid students in navigating their mental health?
One of the first initiatives Niles West has taken in response to the crisis was dedicating the Student Services website to mental health resources. On the site, one can find four sections linked with different resources: Ways to deal with stress, working through sadness, managing distance learning, and community support. Some of the sections feature mindfulness activities, stretches, visual relaxation, workouts, music, and more to help deal with sadness and stress. Others offer resources for parents to help their children navigate distance learning. Dr. Antwan Babakhani, Assistant Principal of Student Services, sees that the website can provide extra support to both students and adults.
"Most students need to feel a sense of belongingness in school through adults and friends. However, for those who need that extra support, my hope is that the website provides coping strategies to daily stressors. My hope is also to encourage those who are suffering from depression and anxiety to review the clinical options we've listed on our website. And of course, it's always a good idea to email your school counselor. The counselor will be able to set students up with a school social worker or school psychologist," Babakhani said.
Although most classes have had to stick to their curriculum in order to complete all coursework by the end of the year, some classes have looked to implement Social/Emotional Learning, or SEL, curriculum into their daily schedule for students. SEL curriculum focuses on teaching students skills such as problem-solving, mindfulness techniques, understanding one's emotions, and many other skills essential for young adults. In the late 1960s, Yale researcher James Comer initiated a program that led to the creation of CASEL (Collaborative to Advance Social and Emotional Learning), an organization that invites educators and researchers to understand Emotional Intelligence, develop student's character, and form healthy habits.
Rebecca Tuecke, a Physical Welfare Teacher at Niles West, decided to implement SEL curriculum into her PE Leaders class, which focuses on teaching juniors and seniors leadership skills to help them mentor underclassmen in freshman/sophomore PE.
"I've been attending many conferences the last few years and SEL has been the buzz word out there and I found it very interesting. We as a department have been wanting to introduce it in our curriculum so there was a committee that put together a 4-year plan this past summer. I absolutely loved it and thought there is no better time than doing this pandemic so I dove right in," Tuecke said."However, the interesting thing that is happening along the way is that I have found myself needing it more than ever. So I'm learning right along with you guys and growing in my mindset. I think we need this more than ever in education. I believe it can be the key to us finding ourselves and then learning to grow as a community together."
With Niles West taking initiatives in school to navigate their mental health, many students at West and around the world have looked to social media to distract themselves from the pandemic. In the fall of 2020, database company Statista found that the video-sharing app TikTok was among the most popular social media networks among teens in the United States at 29%, compared to 4% in the fall of 2019. Contrary to popular belief, however, there is not enough research to support that spending time on social media is directly correlated to poor mental health.
"It's important for parents to keep in mind, research on the correlation between digital technology use and adolescent mental health is still in its infancy, relatively speaking," Dr. Claire Coyne, Ph.D., Pediatric Psychologist in The Pritzker Department of Psychiatry and Behavioral Health at Lurie's Children's Hospital said. "One of the most important takeaways from this investigation is that we need more research to understand both positive and negative effects of social media use, and to explore the potential for new technologies to support mental health and well-being."
The impact of social media is recognized by the administration at Niles West, as Dr. Babakhani explains, "Social media is a powerful tool. At the end of the day, it's about having the social and emotional competencies to know how to maneuver it and how to realize its impact," Babakhani said. "When social media starts impacting mood, it may then transition to impacting your actions. That can be bad. Some things you can do to minimize time online: find a hobby, exercise, read a book, have a conversation with a professional at Niles West (counselor, social worker, psychologist, dean, teacher, coach, club sponsor, etc.). Any of these adults can help you walk through your social media issues (or point you in the right direction)."
If you need someone to talk to about your mental health, you can find professionals on the Niles West website at https://www.niles-hs.k12.il.us/student-services/west-student-services-staff.