The Trilogy Completes With Latest Release of "To All the Boys: Always and Forever"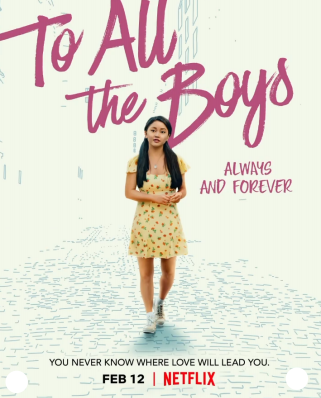 At last, the well-anticipated "To All the Boys: Always and Forever" was released on Feb. 12. It mainly focuses on the relationship between Lara Jean, played by Lana Condor, and Peter Kavinsky, played by Noah Centineo. In both of the previously released movies, we saw Lara and Peter's relationship grow, nonetheless they still had to overcome many obstacles. As seniors of high school, the one final struggle before they leave is the search for which college they will go off to and continue on with their lives.
Just like many couples, Lara and Peter are both worried about the future of their relationship. Luckily, Peter has figured it out and all that Lara Jean has to do is apply to Stanford. With her grades, she is sure to be accepted, right? Well, not in this case. Lara is denied by Stanford but on the bright side, she planned ahead and applied to other universities, some of which are not that far from Peter. 
With a denied application from Stanford though, Lara's future with Peter starts to tear apart. This is until she received an acceptance letter from Berkeley, a university only a few hours from Peter. When Lara informs Peter about the news, he becomes ecstatic that they are only an hour away but he assures her that she can just transfer to Stanford after a year. However, this plan unravels once Lara and Peter go on their school trip to New York. 
Upon their arrival, Lara is automatically stunned by how beautiful the city is. She visits the NYU campus along with her best friend Chris and gets invited to a college party. Taking in the view from the party, Lara imagines what her life would be like there. Maybe NYU was where she wanted to go all along? But on the downside, she and Peter would be many miles away. Could their relationship handle the long-distance? Although Peter and her could break up for this, Lara takes a risk and decides to apply to NYU. 
Overall, the cinematography was impressive and the editing was superb. I would definitely recommend watching this movie if you're ever bored, or are just looking for some romance. I would rate this movie a 9/10.