The Niles West Community and Their COVID-19 Vaccine Experience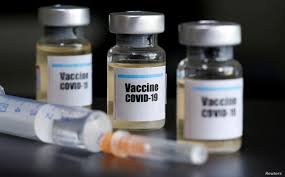 Hybrid learning at Niles West officially began on Monday, March 1, 2021. Niles West teachers prepared their classrooms and adapted to their new teaching environments for this day, with some students returning to the classroom for the first time since March of 2020. Some Niles West community members decided to take the COVID-19 vaccine as a part of their personal preparation for coming back.
"I felt grateful and lucky to get an appointment through the Skokie Department of Public Health and a great sense of personal relief after the vaccination," math teacher George Bravos said. "I am hopeful that by taking the vaccine, I am part of the solution that ends this pandemic. Although my arm was a little sore afterward, I had almost no side effects."
The vaccines that became available to the public in recent months have stirred a dialogue about whether people should take the first batch. 
"I had no qualms about getting the vaccine. If Dr. Fauci says the vaccine is safe, I believe it is safe! Both vaccines made my arm sore, but I was fortunate, and I did not get too sick," science teacher Lisa Dunham said. "Even if I did get sick, it would be worth it. I am so thankful I work in a community where the health department deemed teachers essential workers and put us first."
The Pfizer and Moderna vaccines went public on Dec. 21, 2020. The Pfizer vaccine is available for ages 16 and up, and Moderna is available for individuals above the age of 18. According to the U.S. Food and Drug Administration, a third COVID-19 vaccine was authorized on Feb. 27, 2021. The vaccine belonged to Janssen Biotech Inc., a pharmaceutical company of Johnson & Johnson. Just like the Moderna vaccine, it is only available to individuals above the age of 18. However, unlike the Pfizer and Moderna vaccines, which need two doses to take full effect, it only requires one dosage. For more information on the Pfizer and Moderna vaccines, click here. To learn more about the Johnson & Johnson vaccine, click here. 
For anyone planning on taking a COVID-19 vaccine in the near or far future, according to junior Rabee Ahmad, "It is not as bad as you would think. For someone who totally despises needles, it was done very quickly. I could not even tell I got the shot. Eating and drinking water before getting the vaccine is essential, so make sure you do so if you plan on getting it. Personally, I felt a little weak because I had not eaten or had a drink of anything that morning, but I felt totally okay the next day."