Niles West to Hold Annual Parade and Float Contest
By Mara Shapiro
October 21, 2011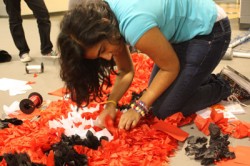 The annual Homecoming Parade and Float contest will be held Friday,  Oct. 21 from 1:40 p.m. to 2:30 p.m.
The parade starts right after the Homecoming Assembly.  Float contest judging will take place at the same time as the parade. Clubs that will be participating are Filipino Club, Assyrian Club, Hellenic Club, Auto Club, Theatre, the Cabinets from all grade levels, Marching Band, Bosnian-Montenegrian Club, Go Green Club, and the Homecoming Queen and King (seniors Jewell Loyd and Casey Mahoney-Muno).
The parade, unlike the past two years, will go back to the old tradition of occurring right after the Assembly, and not the Saturday morning of the game and dance.
"[We went back to having the parade on Friday] because having the game, parade, and assembly on the same day was a tradition and changing it to Saturday was unsuccessful so [we] changed it back," said Homecoming committee member Maridsa Choute.
Hellenic Club sponsor and Student Services assistant Bill Papaioannou had his club build a float because of the members of the club wanting to show their school spirit.
"[We build a float because of] the kids. They really look forward to being a part of the festivities. They enjoy coming up with a float that represents the club and their heritage, while demonstrating their strong school spirit," Papaioannou says.
Junior Justin Sia, president of Junior Cabinet, agrees with Papaioannou about participating in the contest because of school spirit.
"Junior Cabinet is involved in the Homecoming Parade because we represent the spirit of the entire Junior class. The float we build represents the school spirit and pride that the Class of 2013 has in Niles West. We are involved each year to show the community exactly how '13oss the Class of 2013 is," Sia says.
Notably missing this year would be German Club. The club has won the contest for the past  several years in a row.
"[October] has been a busy month for German Club and the German Department with activities such as Oktoberfest, the German Student Immersion Weekend, and our upcoming field trip to the Brauhaus.  These activities benefit many students in our program, and unfortunately, we just did not have enough time to commit to float building this year," German teacher and German Club sponsor Natalie Bartl says.
The floats will be judged by a panel of five teachers. The criteria they will be looking for is use of theme (Under the Neon Lights), school spirit, creativity/originality, and overall presentation.
Homecoming committee sponsor and math teacher Kathie Kajmowicz  thinks the parade raises school spirit and helps the community.
"[Students and staff should attend the parade] just to cheer on friends and family. I encourage students and staff[to attend]. It's all about school spirit and community," Kajmowicz says.
The parade's route will start outside the Oakton Lobby and finish on Main Street.