Daniel's NFL Mock Draft (First 10 Picks)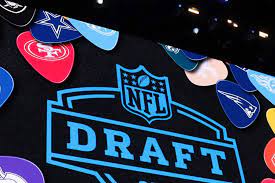 It's nearing the end of April, which only means that the NFL draft is right around the corner. The event where NFL franchises hand choose players coming out of college to come prove themselves at the pro level and to boost their teams in areas that need help. Last years the draft saw the Cincinnati Bengals select Heisman trophy winner Joe Burrow with the number one pick which was just one of the many exciting selections we saw that night.
The draft this year is a little different considering that there was no NFL Combine held because of the pandemic. The combine is a weekend of events for the college players to come and show their talent in front of the NFL pro scouts. Many college football players opted out of playing this past season, making this years draft even more interesting.  Thursday will definitely shape up to be one of the most intriguing draft shows we've seen in ages based solely on the circumstances the virus has brought us.
In this article I will be prevailing picks 1-10 and my reasoning for them.
Pick #1 – Jacksonville Jaguars select Trevor Lawrence, QB, Clemson University. Lawrence is a generational talent that has brought nothing but wins to Clemson. Insane arm talent with an athletic build that makes him the top prospect in this draft throughout every position. Lawrence averaged 3,366 passing yards and 30 TD's at his 3 years at Clemson.
Pick #2 – New York Jets select Zach Wilson, QB, Brigham Young University. Wilson is easily the second best quarterback in this draft class. After a slow start in his freshmen year, Wilson threw for 3,692 yards and 33 TD's ranking him 3rd out of all the D1 quarterbacks. A team like the Jets are in need for a star studded quarterback to help get newly appointed head coach Robert Salah his first winning season with his new team.
Pick #3 – San Francisco 49ers select Justin Fields, QB, Ohio State University. The 49ers traded up to the #3 spot this past March with the intentions of drafting their franchise quarterback. Multiple rumors have the 49ers taking Mac Jones from the University of Alabama based on how well he fits into Kyle Shanahan's play style. In my opinion, Fields is too good of a quarterback to pass up on. Fields ran a 4.45 second 40 yard dash at his pro day making him the fastest quarterback prospect out of this draft.
Pick #4 – Atlanta Falcons select Kyle Pitts, TE, University of Florida. With QB Matt Ryan returning for the fall, Falcons go ahead and choose Pitts who's been expected to be a star at the NFL level. At 6'6, 246 lbs, Pitts is ready to make his mark after receiving for 770 yards and 12 TD's this past year at Florida. His pr0 day numbers put NFL scouts in shock, and the Falcons would be silly not to steal him with the number 4 pick.
Pick #5 – Bengals select Penei Sewell, OT, University of Oregon. This pick comes to the Bengals front office with no convincing. Sewell is easily the best offensive tackle out of this class at 6'6, 331 lbs. Burrow needs more protection after getting sacked 32 times last season and he didn't even play all 16 games.
Pick #6 – Miami Dolphins select Ja'Marr Chase, WR, Louisiana State University. After failing to make the playoffs last year, the Dolphins are in need of an offensive weapon to help out their QB Tua Tagovailoa. Chase chose not to play this past year but was able to put up good numbers in the 2019 season to make his mark in a stacked wide receiver class this year. Chase has great size, good hands, speed, and looks the most NFL ready out of any of the wide receiver prospects.
Pick #7 – Detroit Lions select Devonta Smith, WR, University of Alabama. The 2020 Heisman trophy winner is heading to the Lions after a record breaking season. Smith has the speed to be destructive on any part of the field, whether he's going for a quick pass or a long play action, he'll make the play count. His size has been a concern for many, but his 117 receptions for 1,856 yards are hard to overlook.
Pick #8 – Carolina Panthers select Rashawn Slater, OT, Northwestern University. After trading for former Jets QB Sam Darnold, the Panthers beef up their protection by taking Slater who's known to be NFL ready after an impressive performance against 2020 NFL defensive rookie of the year, Chase Young, in a playoff game back in 2019.
Pick #9 – Denver Broncos select Trey Lance, QB, North Dakota State University. Acquiring QB Teddy Bridgewater was just step one of the ongoing process in putting this Broncos team back in playoff contention in a heavily competitive division. Drafting Lance at 9 will set them up for future success with the young pass catching group this team has, as returning players Jerry Jeudy, Courtland Sutton, and Noah Fant are all set to return next year. Lance has a strong arm with good ball protection and will take the NFL by storm in the coming years.
Pick #10 – Dallas Cowboys select Patrick Surtain II, CB, University of Alabama. Cowboys upgrade there secondary this draft with Surtain at 10 after resigning QB Dak Prescott to a deal worth 160 million dollars this off season. This entire secondary needs major upgrades, and selecting the 2020 SEC Defensive Player of the Year is just the start to it all.