Sofia Saldana: Choreographing a Community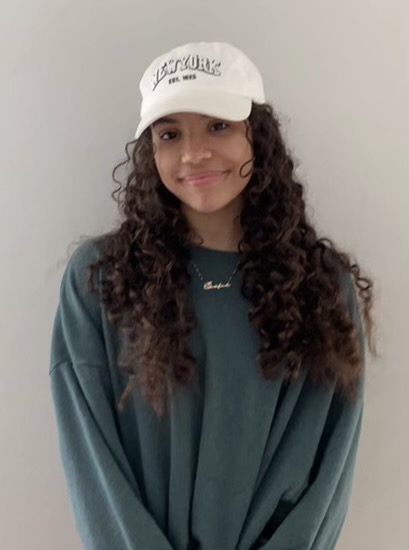 With the entire school watching her, senior Sofia Saldana stands in the center of the gym, ready to express one of her greatest passions: dancing. All her life she and her sister have been dancing, so when her older sister introduced her to the club, there was no question that Saldana would join Orchesis.
For Saldana, Orchesis isn't just a club; it's a community. She can express herself alongside other dancers in a different environment.
"It is definitely special because I've been dancing for so long and being in school can be really hard, especially when you're sitting in the classroom all day long, just learning about academics," Saldana said. "Having somewhere at school where you can have a creative outlet and move around is really important to me."
Although she has been in Orchesis since freshman year, last year she became an officer. As an officer of Orchesis, Saldana choreographs dances and prepares the group for their show in March.
"Her dedication and passion for the art of dance is quite inspiring. She is able to perform many genres of dance that include but are not limited to hip hop, contemporary, and jazz. I look forward to watching her leadership on and off the stage this year," director Kristen Baron said.
According to senior Paula Jimenez, Saldana has prepared for this all her life and is great at what she does. She creates a welcoming environment for new dancers.
"Sofia is a very hardworking, professional dancer. She has shown great leadership skills. Not only is she very technical and precise about choreo, but she knows when to have a fun time and be crazy," Jimenez said.
Saldana is both talented at dancing and guiding her peers. Although last year was difficult because they had to communicate virtually, she managed to keep the group motivated.
"Being an officer, you have the responsibility to choreograph, to organize rehearsals, to lead everybody, to make sure everyone is being included and that everybody is having a good time. You have to make sure that people are on top of things and no one is slacking off," Saldana said.
Now that the school is back to in-person learning, Saldana looks forward to not only performing at assemblies and their showcase, but also involving more students.
"One of our goals is to try to be as inclusive as possible. Most of our choreographers are students, so throughout the whole year students are choreographing dances and teaching each other. We try to get as many choreographers as possible," said Saldana.
The community of dancers demonstrates the determination and passion of Niles West students who support one another to achieve their goals. Through the guidance of leaders like Saldana, individuals are inspired to make their dreams a reality.