Chicago Bears Seek Another Playoff Appearance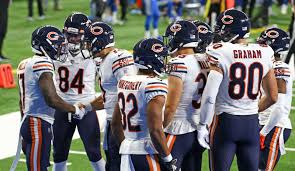 The NFL season is underway with the Chicago Bears setting out to make another playoff appearance this year, after falling to the New Orleans Saints in a wild card game last year. Multiple personnel and player changes to the organization has brought a new sense of hope for fans.
One of the additions comes from the 2021 NFL Draft, 11th selected overall Ohio State quarterback Justin Fields. Fields was a highly respected prospect coming out of a loaded quarterback class with names like Trevor Lawrence, Mac Jones and Zach Wilson.
Bears fans have set high expectations for the rookie once he gets the starting job. At Ohio State, Fields threw over 5,300 passing yards on top of 63 passing TD's while rushing for over 800 yards and 15 TD's.
Although drafting Fields was a plus for Bears general manager Ryan Pace, fans have shown their frustration on Fields not being started the first week against the Los Angeles Rams.
"Fields is clearly the more fitting option for the Bears week one. It's a great opportunity for the young rookie to be exposed under the bright lights of prime time football. Fields gives the Bears a better chance to win the game, as proven through preseason play," senior Justin Hirmiz stated.
To improve their season record from last year, the Bears offense is in major need of change. Head coach Matt Nagy has added a handful of weapons to their depth chart, increasing their scoring chances.
"I think adding Marquise Goodwin will do the team well, giving them some speed is something that has been needed since last season. Allen Robinson and Darnell Mooney still need to produce if we want to dominate our division," senior Nick Yonan stated.
Overall, this new NFL season should be exciting since the Bears face a challenging schedule. With a .550 combined win percentage from their opponents in 2020, this makes them have the third hardest season in the NFL, out of 32 teams. With that being said, Bears fans are still in hope for a winning record and another playoff appearance.
"The Bears made some good off-season moves this year, so I think there will be high expectations. I'm excited for the multiple prime time games we have and see how far this team can go. This offense needs to improve from last year if this organization has any hopes of finding themselves in a wild card spot again this year," senior Harun Senderovic stated.