Is the New Traffic Pattern Working?
The congestion in Niles West's parking lot during before and after school continues to cause frustration for parents, students and teachers in spite of a plan implemented in the beginning of the 2021 school year. Traffic guards were added and cars follow a new traffic flow pattern in the front of the building. The plan also included additional suggestions for pick up areas in the afternoons.
It seems the congestion is mainly in the front of the building, causing concern for teachers as they leave the building.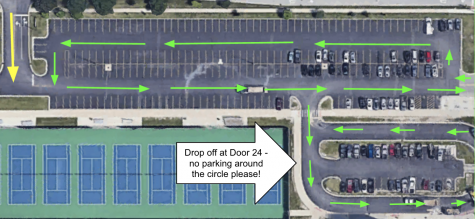 "When I leave after school, a lot of parents are parked behind my car. I have to ask them to leave so I can pull out of my parking spot, which is frustrating. I do think that the new cone set up does help a bit, but I still think they could be improved," teacher Deanna Sortino said.
Students have also reported that it can take up to 10 minutes to get into the parking lot from the Oakton and Menard intersection in the mornings.
"I think most people just go whichever way they want, like which ever way is most convenient for them. I don't really see a change in how it used to be or how it was in the very beginning of the school year," senior Saira Khatoon said. "I think there's just more crowding at the main light."
Parents who drop off and pick up their kids every day continue to experience congestion.
"It takes about 10 to 15 minutes to leave after school," parent Tina Bui said. "There is a desperate need for a better logistical traffic flow in the parking lot. The traffic [is] congested not only in the lot, but on Oakton Street."
An after school pick up option suggested in Ritter's email is working for parent Jon Warden, who uses the South lot in the afternoons.
"I pick her up in the south end parking lot, looking for a space direct in line from the doors. There is some traffic leaving the parking lot but it is mostly managed well by school traffic monitors," Warden said.
Students who take the bus before or after school have reported missing most of the traffic.
"I get to school from the bus so there's usually no traffic. I get there around 7:45," sophomore Amina Dervisevic said.
West principal Dr. Karen Ritter addressed these alternatives and complications further in an email sent on August 15.
"We are aware of the parking lot congestion at drop off and pick up. This has been an historical issue at Niles West," Ritter wrote. "According to our latest traffic study, there are almost 2000 cars that arrive in the morning in a short amount of time. After school, there are over 800 cars arriving around the same time."
The email also suggested parents to drop off their children at Door 1, the auditorium entrance. Another option is to follow the traffic pattern and go to Door 24, the pool doors. For after school options, parents could find a parking spot or go to the South Lobby and pick up their child from there.