Top 5 Fall Activities
The weather is getting cooler and the leaves are changing colors. Now is the perfect time to start fall trends — here are my top 5 activities to try this fall:
1. Visit a pumpkin patch – Pumpkin season is starting, and now is the perfect time to visit a pumpkin patch. Many local stores have pop-up pumpkin patches indoors or in their parking lots if you are unable to make the drive to one farther away. Pop-up or real, these make great photo opportunities, especially when posing with pumpkins surrounded by hay, which will look great for Instagram. Many pumpkin patches have other fun activities such as tractor rides, corn mazes and hayrides. And of course, you can pick up any pumpkin any size to paint or carve something fun!
2. Go apple picking – Going to an apple orchard is a fun group activity. Apple season is almost over, so plan a weekend soon to go out and visit one. Apple orchards have many activities such as taking pictures or feeding the goats at the petting zoo. At the location I always visit, Curran's Orchard in Rockford, there is an apple slingshot. You can take a chance to launch an apple at a far away target for some donuts. Many orchards also sell fresh seasonal goods such as jams, jellies and baked sweets. One of my favorite treats when visiting an apple orchard are the fresh apple cider donuts, which are a must when visiting any sort of apple orchard.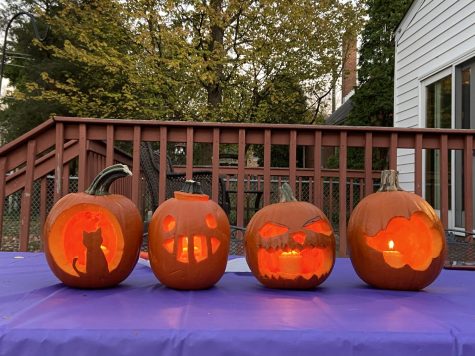 3. Pumpkin carving – Invite some friends over or have a family night to decorate your house with carved pumpkins. Find inspiration online for a pattern or try to carve a cool logo. Choose a fall theme or start preparing for Halloween and go with a spooky design! Pinterest has many ideas if you ever get stuck on what to do. Don't forget to put a light source inside when you are finished to see your design shine.
4. Bake a pie – Fall is the perfect time to experiment with flavors and bake pies. Turn it into a competition between friends or make it into dessert for dinner. You can go with classic pumpkin pie or spice it up with a pecan pie. No matter the filling, it can be a fun new experience and could possibly become a new hobby. You can also bring out your creative side by adding a unique pattern on top or create a new flavor combination.
5. Have a fall photoshoot – Grab a camera and take a walk through the woods. As the leaves start to fall off the trees and change colors, the scenery is beautiful. Gather a leaf pile to get an action shot of you jumping in or throwing it in the air. The bright colors make for a perfect fall background shot. Visiting a pumpkin patch or apple orchard also are great spots to take lively pictures.