Aw, Rats!
Yes, everybody. Lincolnwood has rats. Residents of Lincolnwood have voiced their complaints about the amount of rodents seen in just the past couple of months. Rumored to be from the replacement of sewer lines, construction and an increase in outdoor dining, there has been no definite reason for this increase.
"We don't know for certain what the cause is. We know this is a regional issue, so Lincolnwood is not the only community that's being affected by this. We have reached out to Morton Grove, Niles, Skokie, Evanston, Chicago, and each of those communities has noticed an increase of those complaints about rats," Lincolnwood's Director of Public Works Nadim Badran said.
Badran states that he does not believe the rumor that rodents were coming from Chicago through the pipelines as an outcome of sewer renewals, saying it was not the case.
"Our sewer system does not tie into Chicago at all. They could come in above ground, but ultimately we tie into the MWRD (Metropolitan Water Reclamation District of Greater Chicago) system, which does pass through the city of Chicago, but all of our sewage dumps into their system under McCormick."
However, contrary to what Badran states, residents still believe that the rodents are somehow making their way from Chicago—via the sewers or not.
"The only thing I can think of—I live on a pretty clean residential street—is that they are migrating from the river along McCormick or coming from Chicago. Chicago has been voted the most rat infested city now for a couple years and Lincolnwood is right next to Chicago. I am however hoping that this was just one very adventurous rat that traveled from afar and has moved on," Lincolnwood resident Christine Yu said.
The leading theory residents are taking on is that due to outdoor dining, more garbage is left out uncleaned.
"My theory is that rats are attracted to the smell of food, and we are near the dumpster of a rather popular restaurant here in Lincolnwood. The once a week collection of garbage could be a major reason," resident Laurence Dy said.
To battle this rodent situation the Village of Lincolnwood has implemented the Rat Control Pilot Program. Aiming to control the rodent population, the program is actively based on treating the source, not responding to sightings. The way the program works is a homeowner will inform the village of a rat burrow on their private property, and the village will then send out an exterminator to confirm the rat burrow. Once confirmed, homeowners will need to sign a waiver, and from there traps and poison will be set at the burrows. The program is fully funded by the village if burrows are present on private property.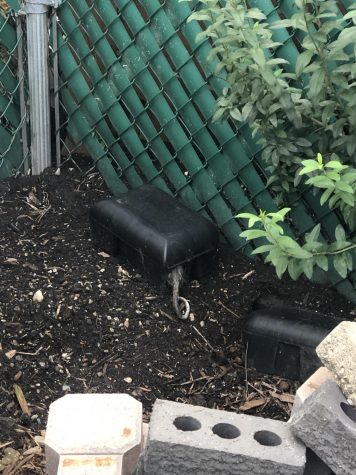 While residents have the option of utilizing the program, they can still choose to hire a private contractor without contacting the Village.
"We called Orkin who came and took a look, but they were pretty shocked because the rats were coming out during the daytime and in front of people which means they feel comfortable in our backyard. They said there is nothing they can do about it, and that it's a village problem because setting up traps could attract more," senior Simra Shareef said. "I think it's one of the setbacks of living so close to a big city. Outdoor dining because of COVID could have also attracted them."