SHIELD Testing Begins at West; Negative Test Required for Extracurricular Activity Participation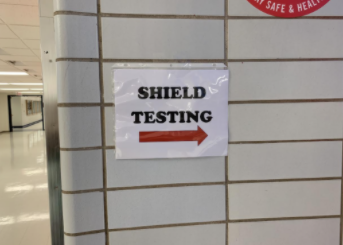 Beginning October 5, Niles West will conduct weekly SHIELD testing, a saliva-based COVID test. Students are encouraged but not required to take weekly SHIELD tests unless they are participating in certain school activities.
"SHIELD testing applies to everyone in the school, and anyone can opt-out. There is a process that involves an opting-out form, but if you don't fill out the form and don't want to be tested, nothing happens. Even without SHIELD you can still go to school; however, to attend extracurricular activities and sports you must be tested," said Assistant Principal for Student Services Antwan Babakhani, who has been overseeing implementation of SHIELD testing at Niles West.
Students can take the SHIELD test any time between 7 AM and 4PM behind the 2nd floor bleachers in the contest gym. The process takes about 5 minutes and involves spitting in a test tube. Babakhani shared the process in an email sent to students and staff on October 4.
"The test is self-administered and non-invasive. After checking in with a collection site staff member, a patient receives a small vial and must deposit a small amount of saliva into that vial. The patient then places the vial in a collection rack and exits the collection site," Babakhani wrote.
Junior Alexa Mazilu and her swim team got the SHIELD test after practice on Tuesday morning.
"The SHIELD test was fast and pretty easy. I feel like it's definitely going to help when it comes to preventing the spread of in school," Mazilu said.
If someone produces a positive SHIELD test, the contact tracing protocol goes into effect.
"Students who are vaccinated and test positive are fine to stay in school [as long as they don't have symptoms]; students who are not vaccinated must quarantine for 10 days. Students will also only be notified if they test positive, as there isn't a real need to notify for negative cases, and it significantly helps with organization. So if you don't hear back you're fine," Babakhani said.
Students may not test during class unless they are symptomatic, but are free to do so whenever they're free (including lunch, study halls, and before or after school).
"Remember there is no limit. Students can be tested as many times as they want to feel safe in the school," Babakhani said.
According to Babakhani, "Approximately 321 [students] have opted out districtwide. So 6.7% opted out."