Gold Mamba Returns: Jewell Loyd's Jersey Number to be Retired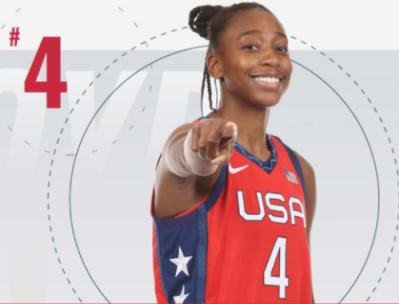 The most decorated athlete to ever walk the halls of Niles West High School, otherwise well known as the "Gold Mamba," Jewell Loyd will be the first athlete to have their number retired in school history on Thursday, Nov. 4. Her killer mentality on the court and summer workouts spent with Kobe Bryant have helped her earn numerous titles, and most recently, an Olympic gold medal.
After competing with the U.S. Women's National Basketball Team this past summer and winning a gold medal over in Tokyo, Japan, Loyd will also be returning to Niles West for a gold medal ceremony.
Former head coach of women's basketball at the University of Notre Dame and Loyd's coach at the collegiate level, Ann "Muffet" McGraw recognized the success Loyd has drawn at all three levels of competition, and talks about how deserving she is for this accomplishment.
"It's quite an honor for Loyd, but if anyone is deserving of it, it's her. She has seemed to be the best athlete to come out of Niles West and has made her mark everywhere she goes. I think the success she has had is amazing, what she has accomplished is phenomenal. Her work ethic, ability to reach out to the kids, being coachable, and overall what she has done at Notre Dame and at the WNBA level speaks to that," McGraw stated.
Author of the novel "State: A Team, A Triumph, A Transformation," professor at Northwestern Medill School of Journalism and former student and basketball player at Niles West, Melissa "Missy" Isaacson is satisfied with the decision of Loyd being chosen for this honor.
"You couldn't pick a more worthy candidate than Loyd, what she has accomplished throughout high school, at Notre Dame, and in the WNBA all speak to her competitiveness and how she is as a person," Isaacson said.
Isaacson acknowledged the impact Loyd will have in the building after the event.
"I would hope that Jewell would be a role model for not only basketball players, but women at the school in general for her work inside and outside the classroom," Isaascon said.
Physical education teacher and Loyd's former head basketball coach at Niles West Tony Konsewicz noted how lucky he was to work with a person like her.
"Jewell is a coach's dream come true when it comes to coaching athletes.  She was a student of the game, always working to be the best that she could be. She was a leader out on the floor, working to make herself and her teammates better. She would never ask her teammates to do anything she wouldn't do. She was and still is a tireless worker. She also took the time to enjoy the time she spent with her teammates. She loved to laugh and have fun with them but when it was time to work, it was all business," Konsewicz said.
Konsewicz explained how deserving Loyd is, and how far her determination has taken her.
"One thing that really stands out is her determination.  I learned early in her career to never doubt Jewell Loyd.  Everything she does is done with determination. The retirement of Jewell's number is a fitting tribute for the greatest athlete ever to come out of Niles Township District 219," Konsewicz said.
Loyd will be at Niles West tomorrow in the Contest Gym at 4 pm CT for her gold medal ceremony as well as her number-retiring. There is a live stream available as well on the D219TV YouTube channel.